"Modern Family" cast a transgender child actor, and this is why it's so important
Transgender characters have long been underrepresented (strike that — not represented at all) on television. Even now, Transparent and Orange is the New Black are the only obvious examples that spring to mind.
But Vulture has just informed us that Modern Family is going to feature an openly transgender child actor in an upcoming episode entitled "A Stereotypical Day."
In the episode, Cam and Mitchell's daughter, Lily, invites her transgender friend Tom over for a playdate. According to Variety, Tom is played by 8-year-old Jackson Millarker, who hails from Atlanta.
The episode's director is Ryan Case, who describes Millarker as "wonderful." She goes on to say, "One of the many reasons I love being a part of this show." Here they are pictured together:
https://www.instagram.com/p/BK1BMW1D7gc
It's so amazing to see a trans actor actually being cast in a trans role, especially after Jill Solway's comments the other day about how that exact thing needs to happen (she's the creator of Transparent, which features a cisgender actor playing a trans woman).
Millarker is also the first openly transgender child actor on television in Hollywood — so this is BIG news.
This casting choice reinforces the fact that Modern Family is still pushing the envelope as one of the most progressive shows on television, and for that, we salute it!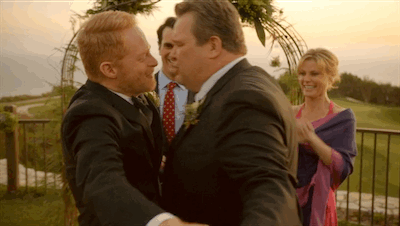 Congrats to Jackson, and we look forward to seeing his episode and tracking his career! FYI the episode airs TOMORROW (September 28th).