Meet Stacy Paris, a double amputee looking to break barriers for models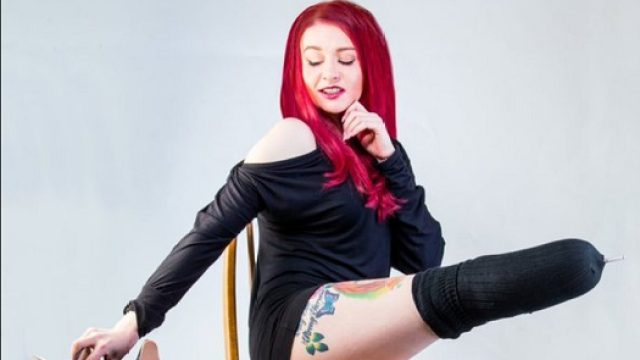 Stacy Paris' path to modeling starts out like a nightmare: Coming back from a lovely vacation in France to find an irritating infection in her foot that wouldn't go away. It got worse, she headed for the hospital, and the bad news was only getting started.
The 30-year old model discovered in 2009 that what seemed like a simple infection was actually necrotizing fasciitis, a flesh-eating virus, which, after 16 surgeries to try and stop its assault on her body, resulted in the amputation of her left leg. The virus continued to spread, however, and soon her right leg was also amputated. Now a double amputee with years of surgery behind her, she decided the last thing she would do is let her circumstances slow her down for another minute.
"The main thing that helped me is that I never looked back," Stacy recently told People. "I didn't dwell on what had happened to me and I found that every time it happened I took it as a new challenge and got more and more determined to beat it."
But a strong outlook wasn't going to be enough to break into the already difficult world of modeling; Paris needed to have perseverance and be willing to break down the barriers that surround the fashion scene. The Scottish native is already making incredible strides for diverse representation in the fashion industry, starring in a campaign for Models of Diversity. The British not-for-profit organization seems completely in line with Stacy, who told People, "Every person should feel that fashion is accessible to them and every person should have someone that they can relate to."
Stacy has already begun to see the real, human effect of her work as a model. In a conversation with the Sunday Express, she recalls a recent chat that brought her impact home. "I spoke to one mum about her daughter, who had both feet amputated and she said the little girl's face just lit up when she saw my picture. That's why I'm doing this."
Keep going, Stacy!