This fitness model was told her baby bump was "too big" — her response is perfection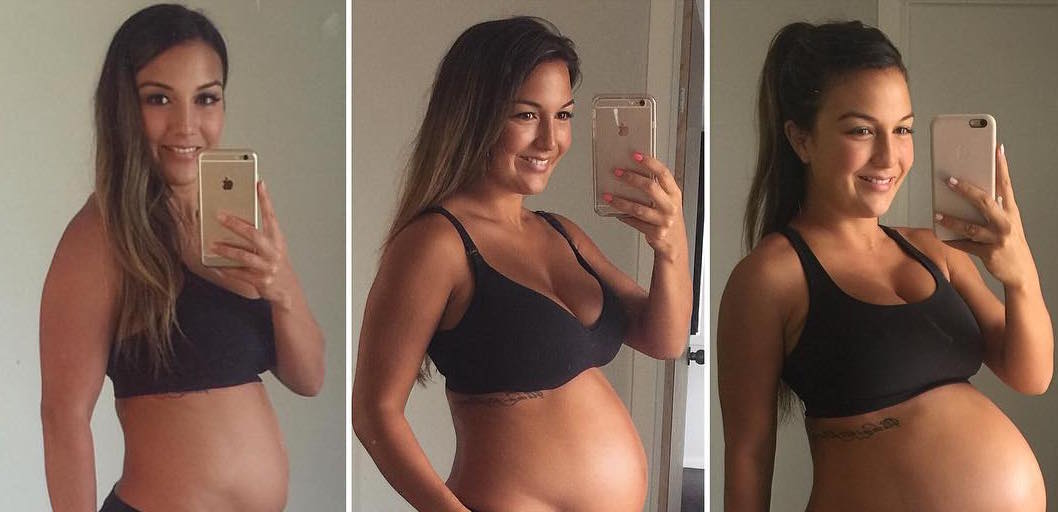 Considering that moms and moms-to-be already have enough to worry about — since, ya know, they have to care for another human being — their body image is the last thing they should have to concern themselves with. Yet, this is (unfortunately) not the case for many. Moms on social media have been told their baby bumps are too small, too muscular, and fitness model Revie Jane Schulz has even been told that her baby bump is too big.
"Me at #24Weeks and I looked like a lot of people's full term ?," wrote Revie on Instagram. "I know a lot of you babes on here are mama's to be so here is a throwback for you. I posted this after so many comments were thrown my way for having a massive bump."
Revie specifically revealed that her bump was criticized when trying on clothes in a dressing room. According to the model, the shop's assistant came up to her and said, "Holy moly! My friend is 36 weeks and you're only 24 weeks and you're WAY bigger than her!" The assistant then repeated this to another woman in the changing area, causing Revie to sob while trying on her clothes. Sadly, this wasn't the only time Schulz had to deal with unprompted comments about her pregnant body.
"I got it everywhere I went and it did make me want to hide away," Revie revealed. "It's tough, you're carrying a human, your body is dramatically changing, more than you ever expected and then to rub salt in it, strangers feel the need to comment every time you're out in public."
In response, Revie encouraged all her followers to never mention the size of a woman's baby bump.
Since we are all unique human beings, it's important to remember that baby bumps are no exception. All women are different and, as a result, their baby bumps should not be expected to look identical. Revie wrote, "No 'you're so big!'s' No 'oh! You're so tiny!'s' Just say something like 'you look beautiful/ healthy/ amazing!' ?" This is advice that can apply to all bodies, across the board.
"I'm just amazing at growing a big human ?," Revie concluded. "No matter what size, remember this, you're creating a miracle."