Model Martha Hunt gave us a Victoria's Secret style hack that we can use for the rest of the year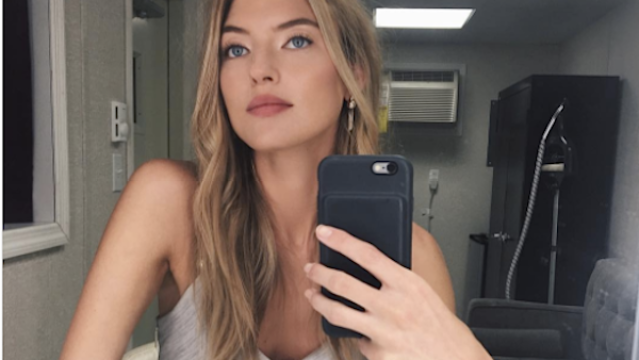 Good news if you're about to head to the mall to shop for some new intimates, because it just got way easier to find your perfect bra. Lingerie and loungewear retailer Victoria's Secret has added new styles to their Body By Victoria collection and implemented a new way to shop, according to your preferred lining. You can choose from the categories "nothing, something, and everything," which means you can easily go from subtle and sexy to cleavage city (a personal fave).
At a recent launch for the retailer's newest Body By Victoria collection, we spoke with Everyday Angel Martha Hunt, and got her to spill about bad beauty trends and her must-have travel products. She also taught us a pretty neat styling trick for Victoria's Secrets slips that will keep us looking cute from summer to fall.
HelloGiggles: Tell us about your skin care routine. Are there specific brands you really love?
Martha Hunt: I use a serum, and a moisturizer, and I exfoliate once a week.  I do think it's important to get a facial at least once a month. I also really like Luzern's moisturizer.
HG: What Victoria's Secret beauty products are in your go-to stash?
MH: They have a Velvet Matte Lip Stain that I love that I've been using all summer. And the shades are perfect, they make your lips look amazing.
HG: What are some of the products that you always have while traveling?
MH: I have a lot of Charlotte Tilbury. She makes that Multi-Miracle Glow that's very hydrating. For me it's all about hydration, because the plane and the sun can be very dehydrating. So I'm always trying to stay on top of moisturizing my skin. Honest Beauty has some makeup wipes that I like. I like the Herbivore facial spray, too.
HG: Are there any beauty trends that you've tried before that you would never try again?
MH: Well, because I'm a model I often work with makeup artists that give me cakey skin, and that's my biggest pet-peeve. I like glowing skin; I like to see a bit of your pores coming through. Other than that, there's a couple facials that I find a little tricky. There's that Vampire Facial where it, like, pricks your skin and makes you bleed and there's literally holes in your skin, and then there's one where it literally burns your skin, so your skin rejuvenates and heals itself and creates new skin. So, I don't know about either of those; I think that's taking it too far, for me personally. I haven't tried them so I can't really knock it, but I think it sounds a little dramatic.
HG: Are there any beauty and style icons that you admire?
MH: My style icon would be Jane Birkin, she just looks classic and effortless all the time. I know she's not French, but she has that French cool girl thing that I try to emulate. For beauty, I think Carolyn Murphy, somehow she's just stunning at any age, or Christy Turlington. There's a way to age gracefully and beautifully and they both look amazing.
HG: What are some of your favorites from Body By Victoria line?
MH: Right now I'm loving the Unlined bra, it's very comfortable and very durable. I love the Demi as well because it has a little bit of lining, but it hides under clothes if you want it to. It also has a little bit of lace at the top so you can show it off.
HG: What are the three essential items in your closet?
MH: Right now I would say a jumpsuit, a denim skirt, and a slip dress. Sometimes I even wear the Victoria's Secret slip back to back, they just don't let me down. Very like, '90s. Their slips already fit so well, so why not wear it as a dress, no one knows the difference. Or you can tuck into jeans and wear it like that. I did that earlier today.
Follow Martha on Instagram here, and shop Victoria's Secret Body By Victoria line here.