Model Maria Borges is the first African woman to cover "Elle" USA this century (!!!)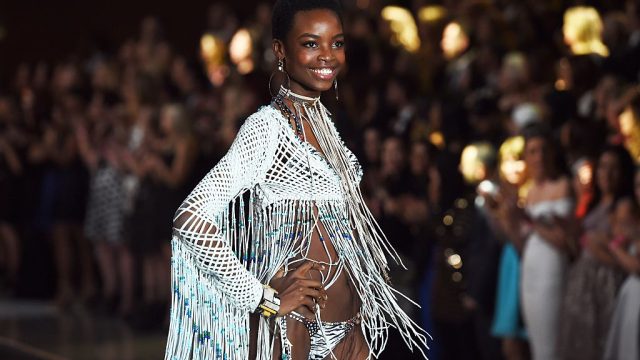 Avid Elle readers, you won't want to miss the magazine's latest U.S. edition. Because amongst the likes of six stunning stars covering the May 2017 swimsuit issue is Maria Borges, the history-making (not to mention drop-dead gorgeous) model who's making waves as the first African woman to cover the magazine in this century. Yep, you read that right!
The Angolan-born supermodel is well aware that she is the first African woman to front an issue of Elle USA since November 1997, when Sudanese model Alex Wek lent her gorgeous face to the cover. (As a matter of fact, Fashionista reports that Wek was the very first black woman to front the glossy.) This is especially newsworthy considering U.K. born actresses cover American mags and American-born models and actresses cover foreign magazines all the time.
Proudly sharing her Elle cover photo with her 12.7K Twitter followers, Maria wrote: "Honored to be the First African Woman of the Century to be on the cover of [Elle USA]. Thank you everyone for your support."
In an excerpt provided by the glossy, the world class model opened up about growing up without a diverse range of models to look up to as role models. She hopes to be that inspiration for girls today.
"The fashion industry is here for everyone, [regardless] of color or race. When I was growing up, I never saw someone like me, and now the other girls can see someone like them," she said. "It's all about inspiration."
https://www.instagram.com/p/BSyp2Z_gH7R
While we're ~totally~ thrilled to see Maria share cover real estate alongside Bella Hadid, Candice Huffine, Hailey Baldwin, Elsa Hosk and Jasmine Tookes (who is herself of mixed African-American roots), we're a little surprised to learn that Borges is the first African-born woman to cover Elle this century.
While we've seen African-American beauties like Beyoncé, Taraji P. Henson, Gabourey Sidibe, and Kerry Washington cover Elle USA in the past two decades, there's certainly room for improvement across the board for ~all~ magazines to be aware of the diversity issues that still exists today. It's 2017, people, let's get onboard with universal inclusion already!