Why people are losing their minds about this picture of a model's leg on Instagram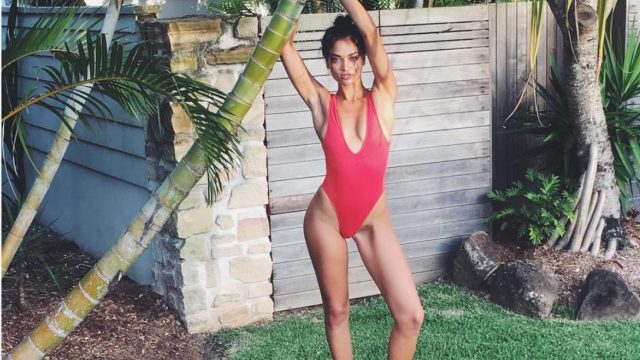 It's practically a law of physics: Each photo a famous person posts on Instagram has an equal and opposite reaction, both positive and (sadly) negative.
Recently engaged Australian model Shanina Shaik is currently making waves over one photo in a series of pics she posted of herself clad in a one-piece bathing suit that has some serious Baywatch vibes.
And while the Victoria's Secret model is totally killing it in all these pics, some fans have noticed something a little off about the following image particularly. We're sure you can guess what it is: 
Several commenters on Instagram have called out a "triangle-shaped hole" on Shanina's right thigh. The reactions are many. Some think that the shape was caused by flexing her leg muscle, like Instagram user @summerrae54, who wrote, "I have that when I pose like this and flex my leg muscles. @shaninamshaik don't listen to the haters!"
Whether you 100% understand Shanina's "leg triangle" (is that a thing now?) or feel a little confused, there's one thing we can agree we all see in this picture: A confident woman who seems to love everything about her body—"triangle" and all. And that is a truly beautiful thing.