This model clapped back after getting fired for being "bloated"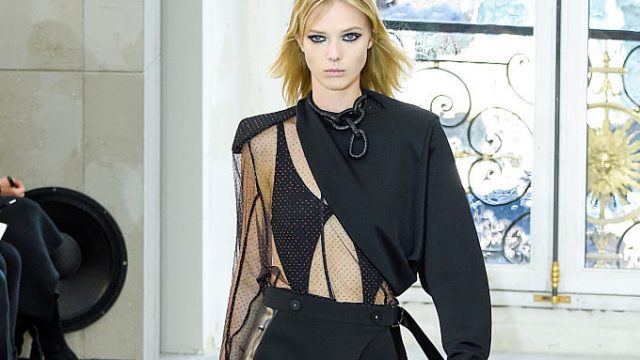 The fashion industry is infamous for promoting unrealistic standards of beauty. While print fashion has (thankfully) made some efforts to shift towards body positive campaigns, it seems that runways are NOT getting the memo. But one model by the name of Ulrikke Hoyer is clapping back after being dismissed from a Louis Vuitton show in Kyoto, Japan due to her weight.
The Danish model had been hired to walk at a Louis Vuitton Cruise show last week but was fired before she could walk the runway — because she was too "bloated." (Warning: When you see photos of Hoyer and how incredibly NOT bloated she is, you may become slightly enraged). Hoyer revealed exactly what happened in a lengthy post to Facebook and Instagram.
https://www.instagram.com/p/BTuIYWhghbS
Hoyer wrote that she had been hired for the job in Paris and despite actually *losing* weight before the Kyoto show, a casting agent told her that her face and stomach were bloated and suggested she only drink water for the next 24 hours. Despite following those (dangerous) instructions, casting agents fired her, claiming her back was now a problem — in addition to her "bloated" face and stomach.
https://www.instagram.com/p/BS4H_muAQUH
While Hoyer was obviously disappointed about being fired, she noted that this represents a much larger problem of unrealistic standards in the fashion industry.
"I am aware that I'm a product, I can separate that but I have seen way too many girls who are sooo skinny that I don't even understand how they even walk or talk. It's so obvious that these girls are in desperate need of help. It's funny how you can be 0,5 or 1 cm 'too big' but never 1-6 cm 'too small,'" Hoyer wrote. "I am glad I am a 20 and not a 15 years old girl, who is new to this and unsure about herself, because I have no doubt that I would then have ended up very sick and scarred long into my adult life."
https://www.instagram.com/p/BSrJQ4sAoW6
We're so glad that Hoyer is standing up for herself and all women in this powerful post. We hope more models continue to come forward and that we can finally make unhealthy standards of beauty a thing of the past.