Model and activist Adwoa Aboah is the new face of Marc Jacobs Beauty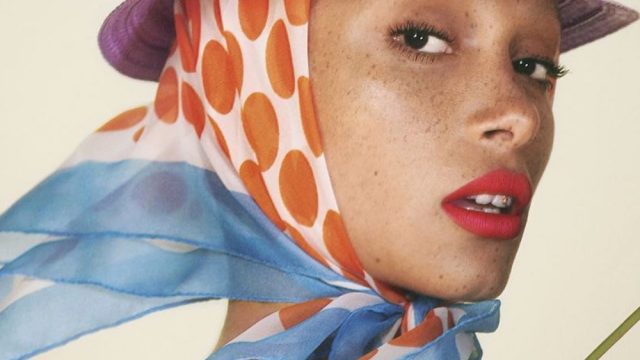 Model and activist Adwoa Aboah already has a lengthy resume — but it's about to get even longer. Aboah is the newest face of Marc Jacobs Beauty, and we live for this announcement.
Aboah will bring her diverse look to the luxury beauty brand. And while we can't get enough of her pillowy lips, close-cropped hair, and freckles, Aboah's outer beauty isn't the only thing she brings to the table. Her activism includes founding GURLS TALK, a digital space where women can share their stories, and she's a vocal feminist. We also credit her with making beauty standards more inclusive. The fact that she's representing such a huge brand is pretty incredible.
https://www.instagram.com/p/Ba9vYAohN8N
In a press release sent to HelloGiggles, the model shared her thoughts on the new announcement, saying,
"Marc gave me my first fashion show in New York City. It was a dream come true and from that point on, he has been one of my biggest supporters. I am so excited to be the new face of Marc Jacobs Beauty, and to have been able to work alongside Marc once again is truly inspirational. His attention to detail is like no other and you see his vision instantly come to life."
https://www.instagram.com/p/BaUiy3bByBb
Promotional images for the collaboration feature Aboah in items from the brand's spring 2018 makeup collection. She's wearing the Le Marc Liquid Lip Crayon in the shade How Rouge, which we can't wait to try. The lip product is set to launch on December 12th and online at Sephora on December 16th.
https://www.instagram.com/p/BaCqMgvhXm6
The model follows in the footsteps of former brand partners, including Jessica Lange, Edie Campbell, Winona Ryder, Aya Jones, and Kaia Gerber.