Modcloth's latest collection is filled with rich fall colors and intricate patterns
The beloved retailers of flattering floral delights and signature retro-inspired clothing, Modcloth, has released a new October line, and the colors and cuts are both as diverse and distinct as you'd hope. With a large selection of vibrant pieces available in a full range of sizes (XXS to 4X), Modcloth's new line is the first signature collection released under the leadership of their new Fashion Director, Lizz Wasserman. Luckily, we were able to ask a few questions and get a statement about the process from Lizz herself!
But first, you should sneak a peek of a few of the new looks in this promo video to get a taste!
https://www.youtube.com/watch?v=uAyAnnYrXlg?feature=oembed
Even in the promotional video, you get a sense of the variety of warm colors the line provides. When asked about her inspiration for the line, Lizz shared a statement of her vision for the line:
"As we transition from the fall collections and start to get excited for Holiday, we imagined the idea of travel in a more fanciful way. It's the way a lot of us travel — imaginatively through books. This collection is inspired by folktales; we wanted to capture that nostalgia and joy of discovery, with imaginative prints, vintage-inspired silhouettes and luxe richness in our fabrics: velvet burnouts, embroidery, lurex clip dots, cozy sweater dresses and coats."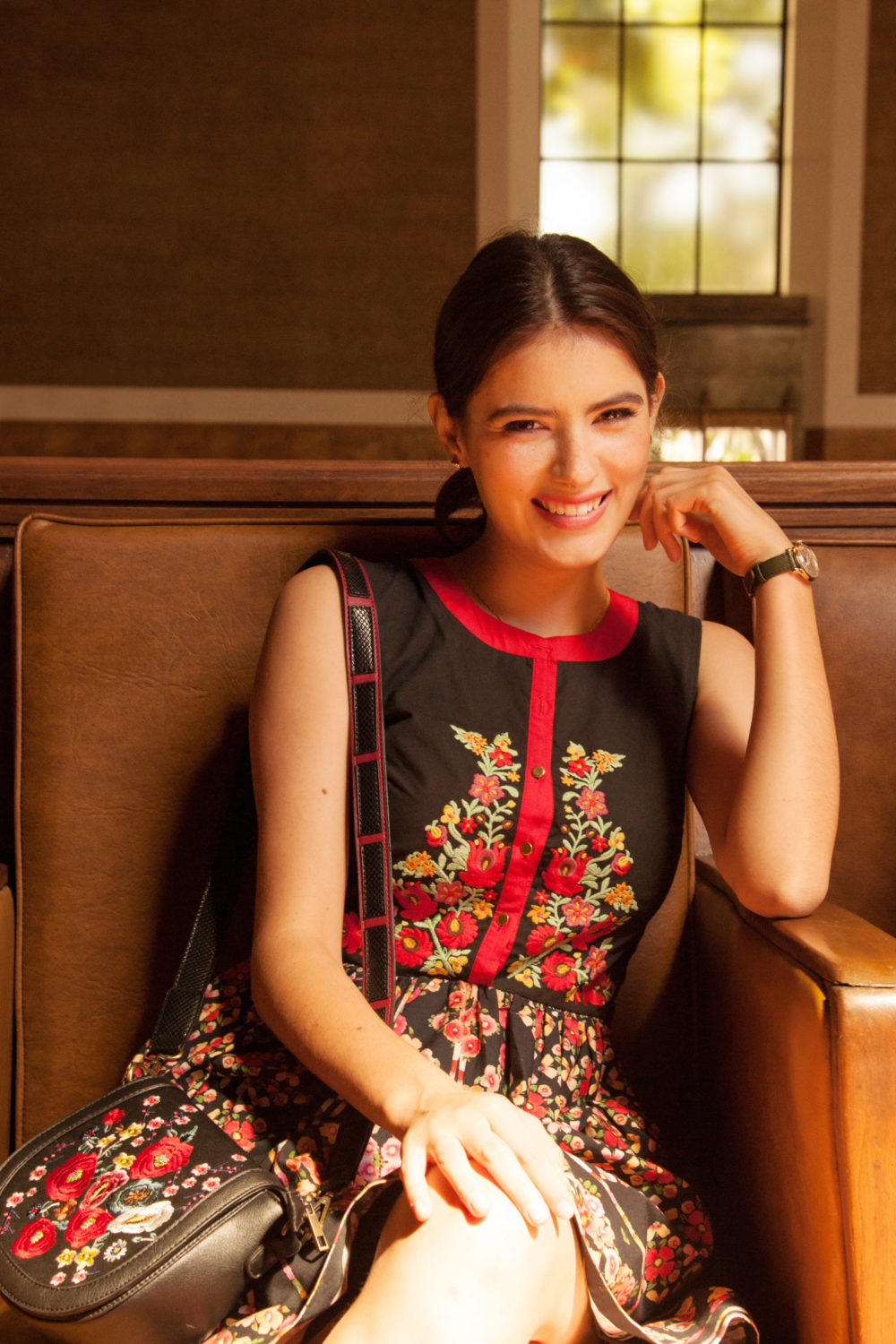 HelloGiggles: My favorite pieces in the line involved bold, graphic prints (tie-dye fire scenes, etc.) What inspired the more distinctive and graphic designs?
Lizz Wasserman: We looked, as always, to vintage, folktales, and traditional folk dressing and craft. The Conversation Masterpiece dress was inspired by a vest my mom bought in Bulgaria on a trip in the 1970s; our folktale book print on the Whimsy Without End dress is all imagined fairytales we wish we could read in several foreign languages (Susan, MC founder and our CCO, helped us with the German translation!); and the Charms My Heart horses print is inspired by a Dala horse, a traditional Swedish handcrafted toy.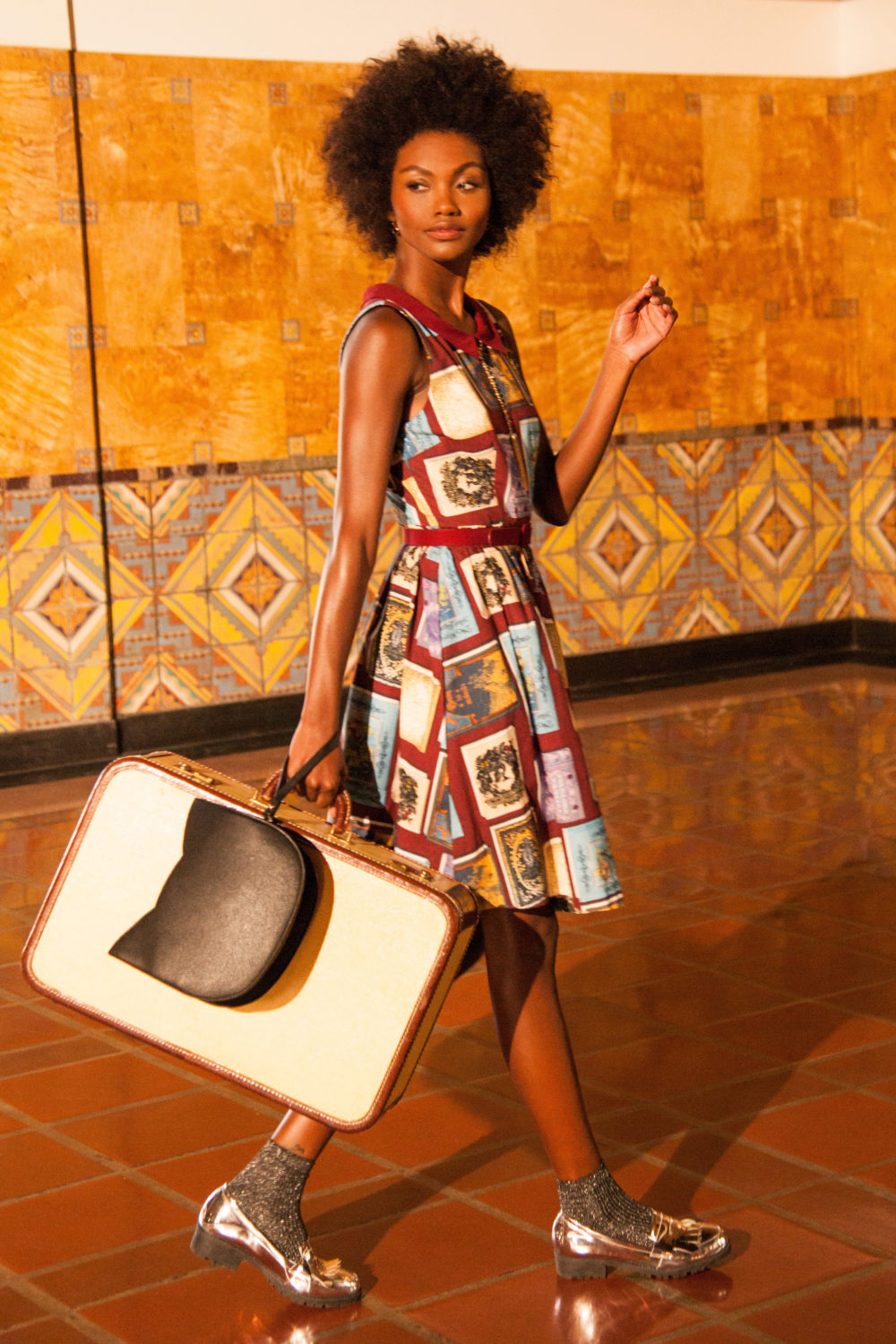 HG: A lot of your pieces do a good job of balancing the line between flowy/comfortable and fitted/more constricting. How do you pick the cuts for your clothing?
LW: Thanks! As we have expanded our collection, the design team is doing an awesome job building off of our known silhouettes, like true vintage-inspired pieces and great fit and flare dresses, into more diverse shapes. This season, I especially love our Charms my Heart dress in the Tuxedo colorway, the Dala horse print, the Apple Cider Toast sweater dress and a great caped dress we have coming in later.  We look to vintage of all decades for our design inspiration, and starting with this past August, you'll start to see a wider variety of silhouettes in the ModCloth Signature label.
HG: At what age did you first form an interest in fashion design?
LW: My mom helped me sew a rainbow star skirt (very ModCloth!) after work when I was around 3, so the bug bit early :). I'd creatively put outfits together with my mom and grandmothers' vintage, and later, with great thrift finds. With sewing, I was a little too adventurous with paper patterns, so in high school I started draping (and I'm an impatient sewer so it was always more about the idea than the reality). I was always drawing, weaving, dyeing fabric, making jewelry, trying to make shoes (ha!), and was voted "Most Unusually Dressed" and "Most Artistic." I thought I was going to be a sociologist or do something with art for most of college, so I didn't consider fashion design as a career until I graduated — and then there was no looking back!