Modcloth's new collab with Wrangler will make you feel like you're in "Dazed and Confused"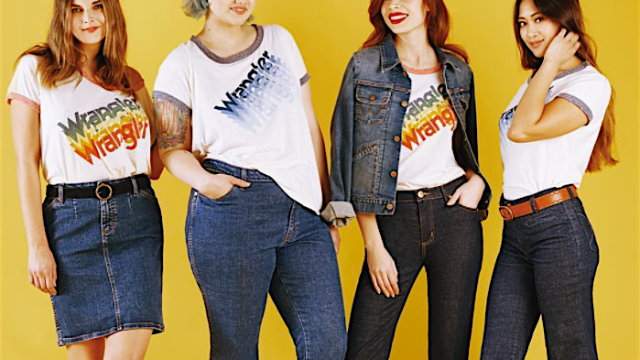 Alright, alright, alright—it no secret we're big fans of Modcloth's retro, ultra-inclusive goods. But now, we're about to lose our cool over the brand's latest collaboration. That's right, the vintage-happy retailer has partnered with Wrangler to create a collection that infuses the personalities of both brands into one insanely cool line. And the '70s-inspired threads in the capsule collection are just so freakin' on-point, we feel like we've been transported into a super fashionable scene from Dazed and Confused.
Yup, we could pretty mush see any of these graphic tees or bell-bottom jeans on Simone or Michelle in the cult-classic film (not so much on Matthew McConaughey's Wooderson, although he'd definitely wouldn't disapprove).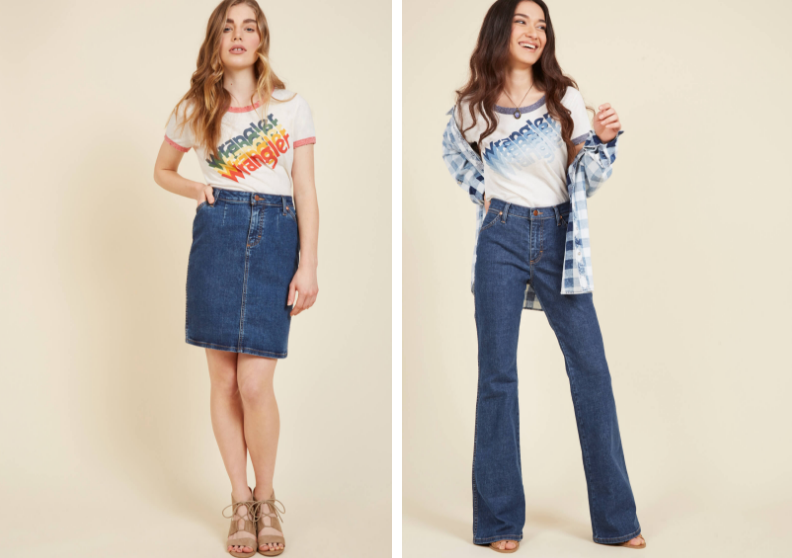 With its rainbow "Wrangler"-etched tees, mod denim jackets, retro jeans and a denim pencil skirt to match, there's something in this groovy-good collection for everyone. As in ~literally~ everyone, considering Modcloth's commitment to carrying a healthy range of sizes, from petite to plus sizes. It's just another reason we adore this ultra-inclusive brand.
The prices range from $34.99 to $89.99.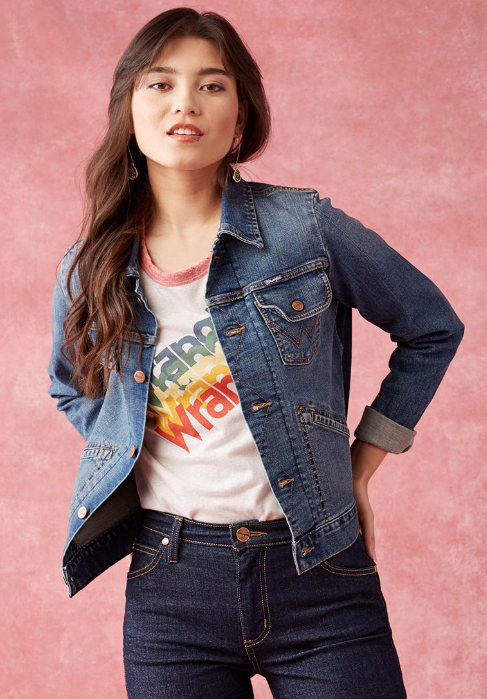 And thanks to Modcloth's inclusive policies, this is the first time Wrangler has been able to accommodate up to size 24W. Woohoo!
Ah, if only these threads had been around for the kids of Lee High School back in 1976.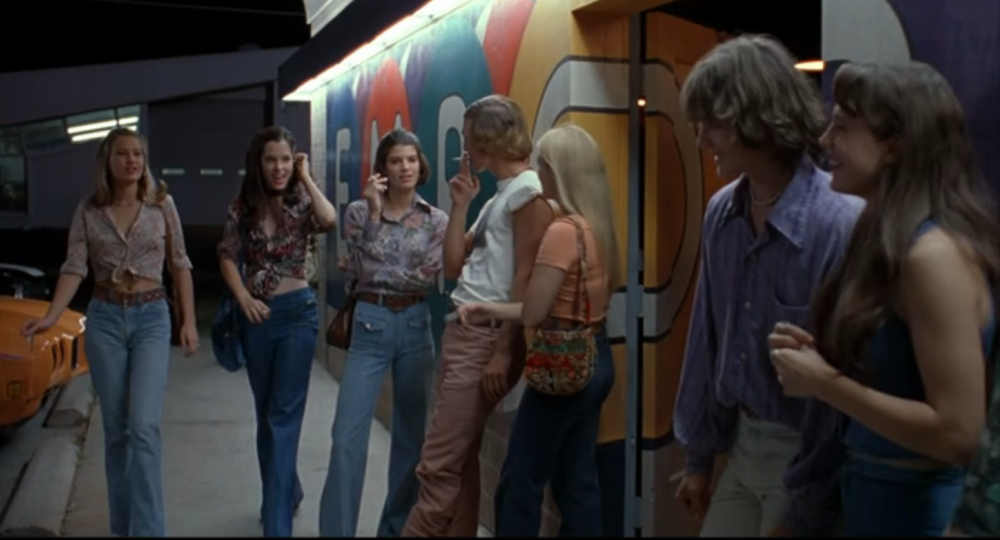 Except, these jeans, tees and jacket options are probably better than they would've been back in the 70's, given the massive amount of effort Modcloth and Wrangler put into modernizing these classics for both comfort and style.
"We definitely did a lot of work to tweak and bring these pants into today," Liz Wasserman, Modcloth's fashion director, told Refinery29.
"We have a really great fit team, and there was no way we could take a vintage heavy cotton with no stretch and say, 'Great, this pant works for every single body and every single woman.' So we put it through our intensive fit process. We also updated the denim; it is a really soft, but still very strong denim with a little bit of stretch. Wrangler invented this kind of split cotton that allows the jeans to be softer for cowboys and workers; we have that same kind of soft feel, but we added stretch so it's flattering on all bodies and maintains its shape."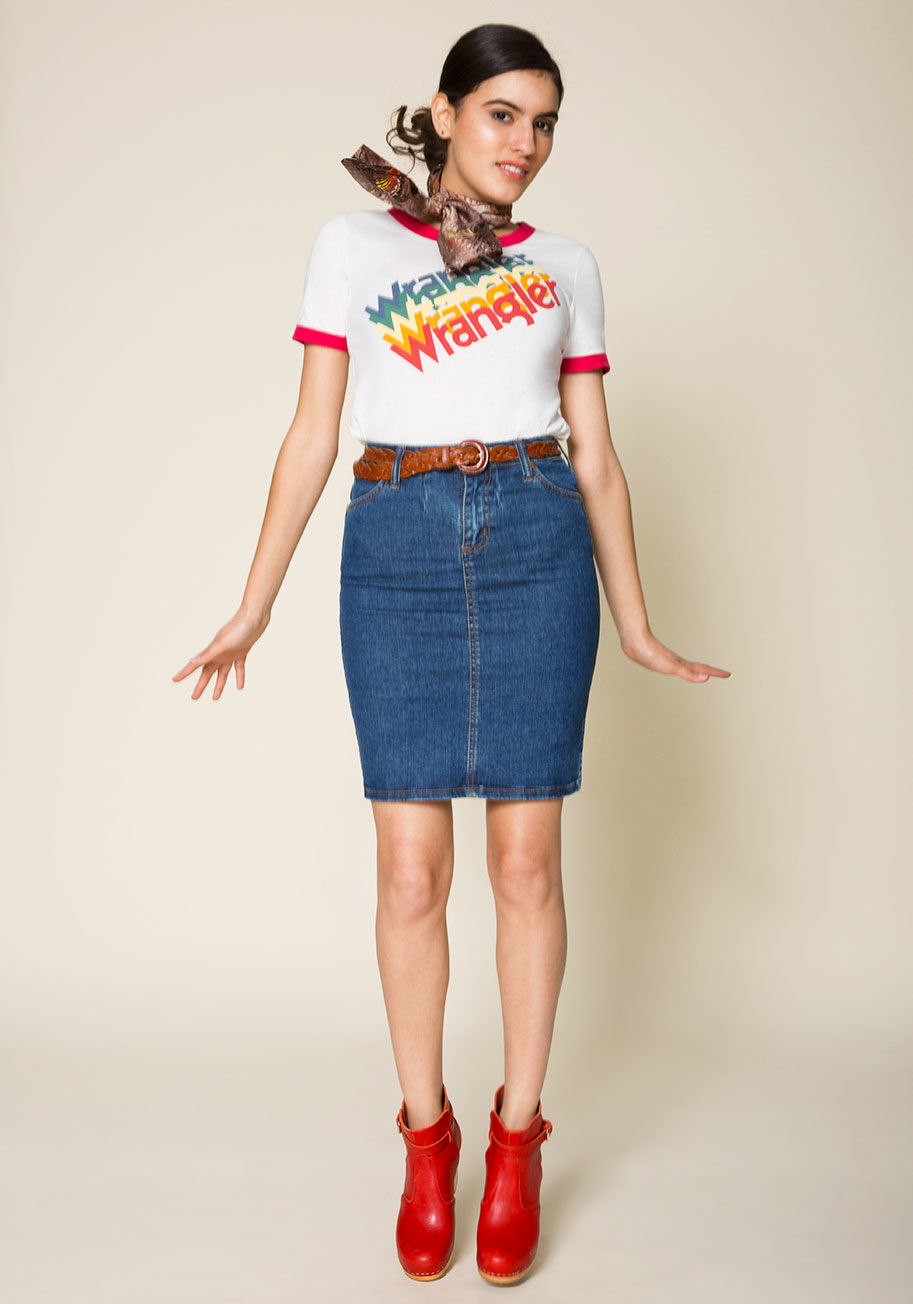 Love this collab as much as we do? Well then, spring on over to Modcloth now before it sells out!