5 reasons to obsess over Modcloth's new body positive swimsuit campaign
It's that time of year when nearly every magazine we pick up and website we visit has something to say about achieving the "bikini body." Yuck. Fortunately, ModCloth is adding to the conversation in a fresh, worthwhile way because, to them, putting on a bathing suit should have nothing to do with changing the shape of the body you've got.
For their 2016 swimsuit campaign, ModCloth's founder and employees have slipped into their bathing suits and posed in front of the camera to prove we are beautiful and happy at every size. The best part is, ModCloth signed an anti-photoshopping pledge in 2014 that still holds today, so every lovely woman you see is portrayed exactly on your screen as she is in person — perfect in her own skin.
HelloGiggles spoke with Susan Gregg Koger, Cofounder and Chief Creative Officer of ModCloth, who told us, "We want to provide an alternative to all of those headlines about dressing for your body type or getting yourself into bikini shape." We want that, too! So, so badly.

Just look at them! Have you ever seen a happier bunch of ladies? It's just proof that natural = gorgeous. We're so excited to see how this positive message ripples out into the world.
Here are five reasons to obsess over this new swimsuit campaign by ModCloth:
1. It teaches women everywhere to be comfortable with who they are at this very moment!
In ModCloth's latest blog post to announce this new campaign, the company wrote, "Our goal is to represent women for who they are — confident, intelligent, and fun. We strive to continue to positively portray women by recognizing their capabilities and contributions, regardless of their size, and inspire body positivity across the spectrum." Amazing!
The brand's commitment to refuse Photoshopping, particularly when women are clad in something as telling as bathing suits, is a crucial lesson to women everywhere. You don't have to change a single thing about your body or your personality in order to feel great. You especially don't have to alter anything to put on a freakin' bikini. Our beauty comes from a deep place of self-acceptance and self-confidence that Photoshop could never, ever touch. 
2. It features a diverse group of women!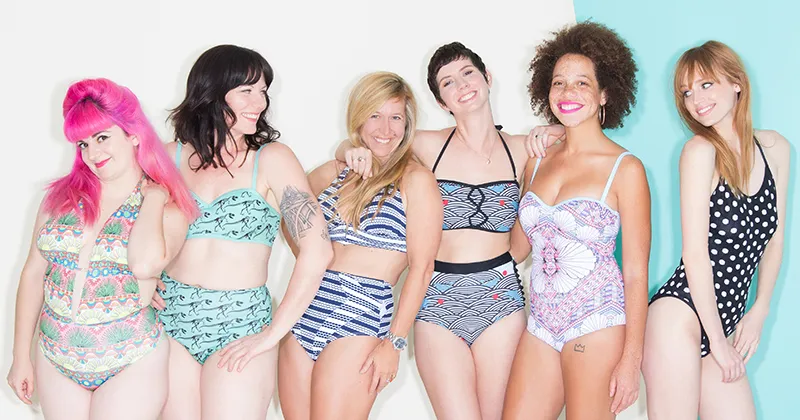 Women of different ages, ethnicities, and body types model side-by-side in these photos. Most fashion spreads we see today don't represent what everyday women look like around us and then we get this false image in our heads of what a "normal" woman should look like: over six feet tall, white, and impossibly thin. This ModCloth campaign tells a more encompassing story — that there are so many different-looking individuals around us and each of them deserves to be celebrated. 
3. All the women in the pictures look genuinely, truly happy!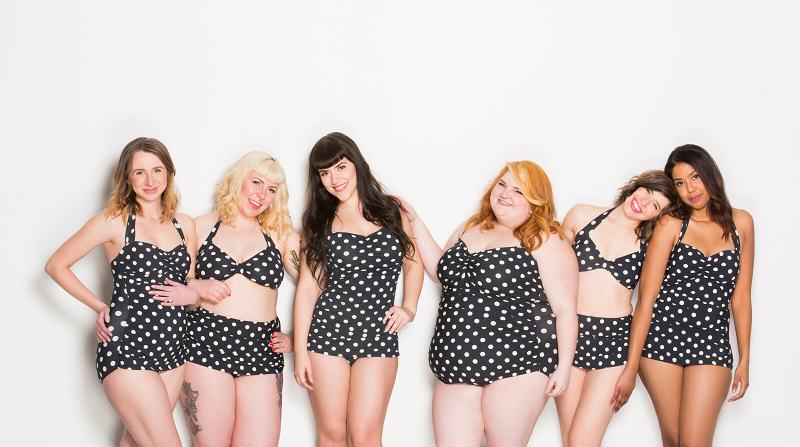 Sure, we see models smiling in pictures every day on the magazine stand, but you can always tell when something is for real — and there is true joy exuding from these ladies. It doesn't look like anyone is faking it. I suppose that's what you get when you give women the space to be themselves, next to other women who love and support them. We need more of this; we need the younger generation of girls to see that it really is possible to be thrilled with the person you are.
4. They're also launching a new video series called Hot Tub Roundtable!
In addition to this bold statement, ModCloth is launching a new video series called Hot Tub Roundtable, where inspirational leaders and businesswomen get together in, well, a hot tub and chat candidly about what it's like to be a woman. Koger told HelloGiggles, "The women in our hot tub video talk about challenges facing female entrepreneurs and give voice to the beautiful array of women in our community swim shoot. To me, these women personify confidence."
The first Hot Tub Roundtable featured Koger, along with Micki Krimmel, founder of Superfit Hero, Amina Muccilio (aka lifestyle blogger Tasselfairy) founder of Studio Mucci, and Samantha Kuntz, founder of Whurl. It was two minutes of uncensored fun, lots of giggles, with some nuggets of real talk tossed in, of course. At the beginning, Koger said, "Entrepreneurship is fucking hard, like, it is not easy." Later on, Muccilio talked about how becoming more visible online has been a rewarding experience: "I'm really getting a lot of feedback from girls who look like me, other girls who have the same interests as I do, and that don't feel represented, and I think honestly, like, that gives me so much life." 
We can't wait to see what else comes up at the next Hot Tub Roundtable sesh! 
5. Oh, and the bathing suits are actually really cute!
If you haven't had a chance to peruse through what ModCloth has to offer in the swim department, go ahead. Take a gander. You won't be disappointed! From retro styles to bold patterns to sexy cuts, there is something to please everyone and anyone's fashion taste.
Additionally, in many of the styles, you'll see a range of sizes that is way more inclusive than the line of swimwear generally sold online today, as ModCloth provides swimsuits up to size 26 and 4XL. No matter what, you're bound to find something to make your summer much sweeter. As Koger told Hello Giggles, "We believe that every body is a swimsuit body and that women are more than their measurements." Amen, sister.