Modcloth just told us what Millennials REALLY think about Valentine's Day
Well, I knew ModCloth was the place to go for cute clothes (not to mention, most of Jessica Day's wardrobe). I did not know ModCloth was also conducting research along with selling adorable cat sweaters! As Gail Goldberg explained on Racked, the folks at ModCloth wanted to know how we Millennial females felt about Valentine's Day. Rather than make assumptions, ModCloth conducted a Harris poll.
Well, the results are in: Two-thirds of Millennials disagree that "Valentine's Day is only for couples." Yay! I couldn't agree more. Leslie Knope would be so proud! Now it's time for us to start our own Galentine's Day traditions, am I right?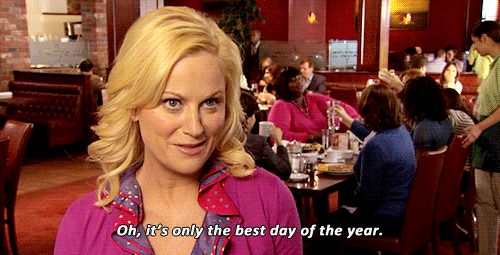 The survey, which was conducted online with a sample set of  1,112 women in the US, also found that 66% of Millennials are looking forward to Valentine's Day. 64% of those surveyed like to celebrate Valentine's Day in a "unique way" (no boxes of chocolate and red roses!). Sadly, 43% of Millennials reported feeling lonely on Valentine's Day, and about half admitted that they would love to receive a gift from their girlfriend(s) on the holiday.
Well, ladies, ModCloth listened. Now you can go on their website for free and customizable Galentine's Day cards to send to your BFF on Valentine's Day! As ModCloth explains, "We know there's someone special out there who rocks your world. Whether they're your trusty sidekick, your professional pep-talker, or just the wind beneath your wings, here's a fun way of letting them know!"
Thanks, ModCloth. I'm going to do just that.
Happy Galentine's Day, ladies!