Misty Copeland clapped back at haters who said she "failed" on stage during Swan Lake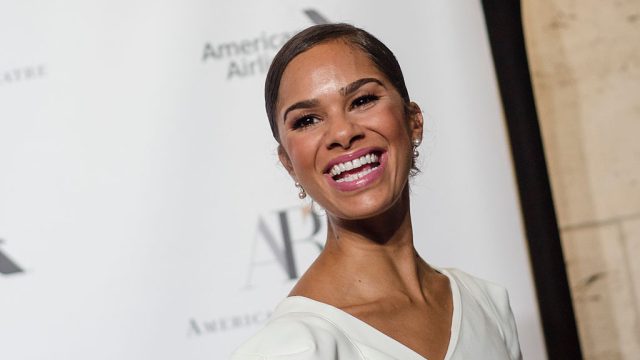 Most celebs, hell, people in general, try to avoid any mention of their mistakes or "fails." But Misty Copeland isn't just anyone. Copeland, who became the first black female principal dancer at the American Ballet Theater, has been breaking barriers and making history for years. And her debut in the ballet classic Swan Lake was just as monumental. But leave it to an internet troll to try to diminish Copeland's accomplishments and abilities.
This week, someone on Twitter tried to trash a recent Swan Lake performance— but Copeland wasn't having it.
During a performance of Swan Lake earlier this month, Copeland, who is dancing the part of the Swan Queen, only completed 12 of the 32 fouettés (or turns) usually performed at the end of the piece, and seemingly improvised the rest. And because the internet is always going to internet, at least one person had something nasty to say.
On Instagram today, March 28th, Copeland shared a screenshot of a tweet (by a user who has since deactivated their account) that called Copeland the "worst," and an embarrassment to the American Ballet Theater. The tweeter went on to add, "No wonder the rest of the world thinks American ballet is a joke."
Copeland started the post off by directing followers to the link in her bio, which sends you directly to a video titled, "Misty Copeland Swan Lake Fouetté Fail."
https://www.youtube.com/watch?v=EzBcOByHpeY?feature=oembed
And she followed up by writing, "A ballerina's career is not, nor should be, defined by how many fouettés she executes." She went on to add that the art of ballet should be enjoyed free of judgment.
"The history of ballet and its origin of pure freedom and expression is what we need to hold onto. Not to come into the theatre as a critic armed with judgement."
In a follow-up post, Copeland shared that she's never afraid to admit any perceived failures because she's a work in progress, as we all are.
She also understands the extra sets of eyes and pressure she faces as the most recognized black ballerina in the country.
"I have such deep and conflicting feelings connected to 'Swan Lake.' As a black woman and as a ballerina given the chance to take on this role. I often question if I deserve to perform this role. My conclusion, I do."
We agree. Copeland deserves every ounce of recognition she has gotten and we admire her even more for challenging her critics.