The new Mister Rogers postage stamp will make every day a beautiful day in the neighborhood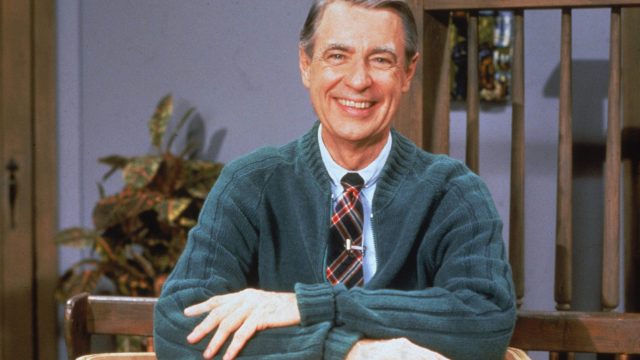 2018 seems to be the year of tributes to the one and only Mister Rogers. Not that that's a bad thing, of course. The beloved television host of Mister Rogers' Neighborhood — which ran from 1968 to 2001 — sadly passed away 15 years ago in 2003. And with the news that Tom Hanks will play Mister Rogers in an upcoming biopic, it just makes sense to celebrate the life of the extraordinary man.
And the U.S. Postal Service's new Mister Rogers postage stamp is just the next step in honoring someone who brought joy to so many.
Mere days after we got to see the trailer for the upcoming documentary about Mister Roger's life and impact, and not long after what would have been his 90th birthday, the U.S. Postal Service unveiled a new stamp just for the magical man himself. As part of the USPS's "Forever" collection, the stamp "pictures Rogers in his trademark cardigan along with King Friday, a puppet character from the show's Neighborhood of Make-Believe," according to The New York Post.
The Mister Rogers postage stamp was unveiled at a dedication ceremony in Pittsburgh, Pennsylvania, at the studio where Mister Rogers' Neighborhood was filmed all those years ago.
His widow, Joanne Rogers, was at the ceremony and said that seeing the stamp was "love at first sight." 
"I thought it was so beautiful," she told ABC News. "I think it is so festive." false
The president and CEO of the Fred Rogers company, Paul Sefken, said the stamp was a wonderful tribute to a man who adored letter writing and always tried to respond to children who wrote to him.
"Fred Rogers left an indelible mark on generations of young audiences through his groundbreaking series, and his timeless wisdom and important messages of inclusion and neighborliness remain just as relevant today as they were 50 years ago, Sefken said.
Mister Rogers may be gone from this world, but his legacy of kindness, love, and neighborliness will never be forgotten.