This is the viral "Work It" cover that even Missy Elliott is obsessed with
Missy Elliott's self-proclaimed "funky white sister" caught the attention of the rap legend when her outdoor karaoke rendition of the 2002 classic "Work It" went viral. Mary Halsey performed the iconic rap track for "cool cat karaoke" at Goddard Park in Rhode Island and shared the performance to her Facebook two weeks ago, and like all things viral—it eventually found its way to the source. Elliott saw the video, lost her mind, and shared it to her own Twitter with her official stamp of approval.
"I just found out I have a funky white sister," Elliott tweeted. "She straight killed 'Work It' sound effects & all I love it." A full day later, Elliott tweeted it again and wrote, "Mood. I'm still weak off this."
Missy was most tickled by the singer's friend who crosses the screen in the background, dances, and then slurps from a cup of ramen. However, we're obsessed with Halsey's perfect performance of the reversed lyrics, "Ti esrever dna ti pilf, nwod gniht ym tup."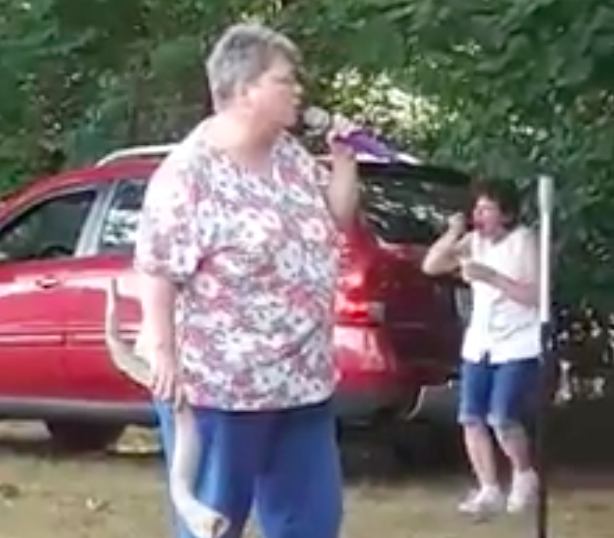 Halsey is a recreation assistant at a nursing and rehab center and, according to her Facebook, she's a huge fan of performing hip-hop anthems in unconventional karaoke settings. Here's a video of her performing The Black Eyed Peas' "My Humps" in the food court at the Warwick Mall in Rhode Island. The fact that this woman has not appeared on The Ellen DeGeneres Show is actually an insult.
Thank you Mary Halsey of Rhode Island for blessing the timeline today.