Missy Elliott's originality showed me it was cool to be a nerdy Black girl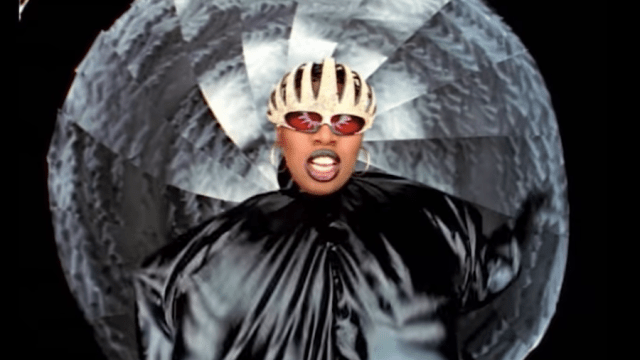 July 1st is rap icon Missy Elliott's birthday.
In 1997, I missed the bus to school because I absolutely had to see the entire music video for Missy Elliott's "The Rain (Supa Dupa Fly)." I, of course, had no way of knowing that I was witnessing an artist — a future icon, really — who was going to completely shift how the world viewed music as an art form. At the time, I was enraptured by something I'd never seen before, and I was simply unwilling to pry my eyes away.
The fish-eyed lens. The cartoonish special effects. Costuming that appeared to be plucked from a delightfully fun future. Lyrics that exuded a bold confidence. With her first solo, career-solidifying music video, Missy Elliott became a certified force in an industry where women had to claw for the barest hint of recognition. Every hit record — "Sock It 2 Me," "Hot Boyz," "Get Ur Freak On," "Gossip Folks," "WTF (Where They From)," the list goes on — made it harder to relegate her to a single box.
To simply call Missy Elliott a rapper, even a devastatingly skilled one, ignores the fact that she is also a razor-sharp lyricist, singer, producer, dancer, and visionary. For over two decades, she's built a legacy so rock solid that the name Missy Elliott has become synonymous with originality and brilliance.
Yet despite such a prolific legacy, I remain completely mesmerized by the music video that introduced me to the artist that would have the greatest impact on my life. What makes the video for "The Rain (Supa Dupa Fly)" so fascinating is that is serves as an almost perfect microcosm of what makes her one of the greatest musical icons of our time.
https://www.youtube.com/watch?v=hHcyJPTTn9w?feature=oembed
Missy Elliott embraces the strange.
Her inflatable black plastic body bag has transcended the video that made it famous, becoming a signal of her signature, undefinable aesthetic. Missy's penchant for elaborate costuming and mechanical choreography has followed her throughout her career, along with a deep appreciation for sci-fi imagery (the "Sock It 2 Me" video is practically an ode to the early days of sci-fi cinema). If you watch her videos back-to-back, you can actually see the progression of a wildly imaginative mind, from the fish-eyed whimsy in "The Rain" to Missy casually popping her head off of her shoulders in "One Minute Man."
https://www.youtube.com/watch?v=9UvBX3REqSY?feature=oembed
This is no small matter. Her love of placing Black women directly against sci-fi and fantasy backdrops reminds the audience that we have a place in these worlds as well.
It was a sentiment that was not lost on young Black girls like me, who felt more encouraged to follow Missy's lead and embrace the nerdier side of ourselves.
https://www.instagram.com/p/BjNisnJnuRe
What's more, she uplifts other women.
Missy Elliott has always been an advocate for working with her fellow artists and succeeding together. As evidenced by Lil' Kim appearing in "The Rain," Missy doesn't shy away from other female emcees or succumb to an illusion of competition. Rather than position herself as better, she's repeatedly chosen to work with and hype up other women in her industry, proving that there's room in entertainment for everyone. Even today she can be seen singing the praises of Janelle Monáe, another queen of originality.
When I first saw "The Rain" music video, I was focused on the images I'd never seen before and was too young to understand the importance of her music's themes: self-love and total agency. I developed a belated appreciation for Missy's confident, body-positive, and sex-positive lyrics. Watching women own their sexuality has always been important. Today, it feels especially vital now as we witness an administration attempt to strip women of our individual freedoms.
Missy Elliott's discography in its entirety paints a portrait of a woman who knows her worth and what she wants; she is sure of her ability to please others. My favorite lyrics have to come from her 2005 banger "We Run This": "Ay boy you know I'm yo' type / 5'2″ I wear my jeans real tight! / My curves, they swerve, so superb / My word is my word and I came to serve!"
https://www.youtube.com/watch?v=t2oIhJG7rXA?feature=oembed
We are extremely fortunate to experience artistry from a titan of positivity, ingenuity, and style. Sadly, none of us can be Missy Elliott; she's made it very clear throughout her career that she can't be duplicated. But if you want to properly honor the trailblazer for her birthday, then take a cue from her: Create a lane for yourself and dance your ass off in it.