Missy Elliott just dropped her first album in 14 years, and the title is so fitting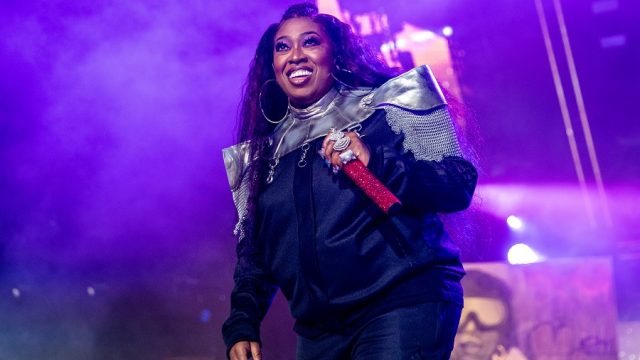 At long last, the music gods have finally heard our calls, because Missy Elliott just dropped her first album in 14 years, and, as expected, it slays.
If you're like us, you probably still put "Get Ur Freak On" and "Work It" on every playlist you make because nothing makes party guests dance like a track by Missy. And while the legendary producer and rapper has been featured on songs by artists like Lizzo, Ciara, Ariana Grande, and Pharrell Williams in recent years, we haven't been blessed with a project of her own since 2005—before iPhones and Instagram. Yes, really.
Elliott announced on Thursday, August 22nd that she would be dropping Iconology, a collection of five brand new songs.
She revealed that she wanted to "throw it back to a time when music just felt good and made us want to dance." And trust us, this EP fills the Missy Elliott-shaped hole in our hearts and our playlists. Each and every one of her new songs is a certified banger, and we are truly not worthy of all her musical greatness, but we're so thankful for it anyway.
This is definitely Elliott's year. In January, she became the first female rapper inducted to the Songwriters Hall of Fame, and on August 26th, she'll snag the coveted Video Vanguard Award at the 2019 MTV VMAs, an honor long-awaited and well-deserved, since her videos have been inspiring us all the way back to 1997's "The Rain (Supa Dupa Fly)."
Aside from five new songs, Elliott also released the video for "Throw It Back," and, of course, it's as innovative and incredible as only a Missy Elliott video can be.
Clearly, fans (including celeb fans) on Twitter agree.
false
Welcome back, Missy. We've missed you so much.