Missy Elliott's MTV VMA Video Vanguard Award is long overdue recognition of her art's impact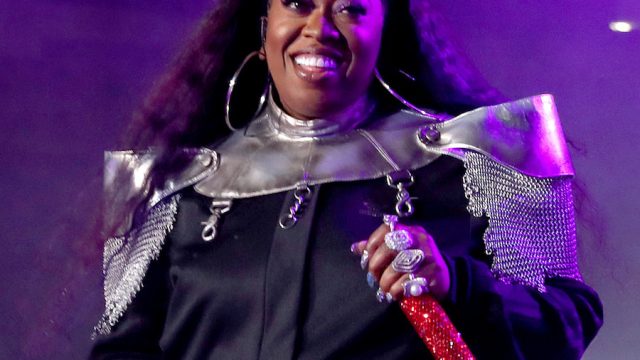 Growing up with Missy Elliott videos on national television is one privilege that millennials with basic cable access got to enjoy. Her finger waves, giant hoops, and inflated leather outfit left us entranced in the music video for "The Rain." Memories of that moment, and of all-nighters spent learning the choreography from the "Work It" music video are fresh on the brain as the Virginia superstar finally gets her flowers.
The MTV Video Music Awards grants the Video Vanguard Award to artists whose creative visuals stand the test of time. Since the inaugural event in 1984, the VMAs has bestowed the lifetime achievement to trendsetters in the music video world. Previous recipients of the coveted award include Madonna, Beyoncé, and Rihanna. Missy Elliott now joins Kanye West (2015), Beastie Boys (1998), and LL Cool J (1997) as one of only four rap acts to receive this honor.
Beginning in R&B groups and building her song-writing resume, Missy Elliott soon branched as a solo artist, initiating her hip hop takeover. Standing as a pivotal icon in hip hop, fashion, and pop culture, Missy Elliott's contributions go beyond the scope of music videos that push creative boundaries through choreography, style, and concept. Her albums, songwriting, and producer credits cement her legendary status.
In total, Missy Elliott holds 41 VMA nominations with seven total wins, including two for Video of the Year. The rapper boasts 22 Grammy award nominations with four wins, and in June 2019, she became the first female rapper to be inducted into the Songwriters Hall Of Fame—shiny accolades that are only tangible symbols of Missy Elliott's career landmarks.
Although widely recognized for her genius, Missy Elliott has not always gotten the respect from MTV she deserves.
For years, the network ignored pleas from fans and critics calling for Missy Elliott to be named Video Vanguard. In 2018, the title went to Jennifer Lopez, who said she felt Missy or Lady Gaga should receive the honor in 2019 (Missy Elliott responded with a humble thank-you).
Now, 2019 is here, and Missy Elliott is finally getting the decoration. Ahead of the VMAs, the rapper released a collection of songs and innovative visuals to welcome herself back to the hip hop game. With cover art spelling out her name in braids, the five-track EP Iconology explores various themes in a way that highlights both her singing and rap abilities.
"Throw It Back" is the first song from the collection to receive visual treatment, and the music video holds true to Missy Elliot's vibrant nature. The video is an ode to herself, referencing her own prior work and boasting her VMA Vanguard status. It begins with a young girl entering "The Hall Of Missy," and with the guidance of Teyana Taylor, the child is introduced to the legendary artistry of Misdemeanor. "The innovator of all innovators? The avant garde? The game-changing sensation?" are all descriptors of Missy Elliott that Taylor shares before ushering the girl in to explore.
Next, in true Missy Elliott fashion, viewers are dazzled with vibrant colors, costume changes, and intricate choreography. Beyond the Iconology cover, Black hairstyles play a major role in "Throw It Back." The cheerleaders in the music video perform with afros, rather than traditional school spirited pom poms. Dancers jump double-dutch in Missy Elliott's extended braids. The video then ends on the moon, where Elliott proudly rocks a moon suit resembling the actual VMA trophy. She raps, "I raised all these babies, call me Katherine Jackson," and few lyrics from any artist speak this level of truth.
Only a handful of artists have left an imprint as influential as Missy Elliott on hip hop, for women especially.
The Video Vanguard Award is all due to the work of Misdemeanor, but by earning the award, she continues to push the current rap girl renaissance and shift the hip hop world. Elliott will always lead by example. Taking the MTV stage to accept the Vanguard award is another female rap first, which isn't surprising considering Missy Elliott has always excelled creatively in a male dominated genre on her own terms and conditions. As more women are rising to dominance in all areas of hip hop and rap, this recognition holds the door open for women whose careers would not exist without hers.
Musically, Missy Elliott rhymed messages of sex positivity, fly girl mantras, and carefree fun: all themes prevalent in the top songs by the hip hop girls of today. Her influence can be seen and heard as many cite Elliott as direct inspiration in their artistic development.
Lizzo, who collaborated with Missy Elliott on her upbeat twerk track "Tempo," celebrates her predecessor as vital to her evolution. In an interview for Essence, Lizzo said, "Seeing Missy exist in her truth was like, 'Oh, I can exist in my truth.' She didn't try to hide anything, lie, or cover anything up. She was as weird and freaky as she wanted to be. And I thought that was special."
Megan Thee Stallion, leader of the Hot Girl revolution, has called Missy Elliott one of her top five female rappers of all time. Nicki Minaj has paid Missy Elliott homage for her achievements as a woman in mainstream hip hop. The Grammy-nominated Tierra Whack names Missy Elliott as her biggest influence, and shared hopes of a collaboration. Chicago rapper Dreezy can agree, naming Missy Elliott's style and attitude as influential. New York rapper Leikeli47 credits Missy Elliott with her entire career, and she performed a Missy Elliott tribute during Essence's 2018 Black Women In Music ceremony alongside fellow emcee Rapsody. During an interview with Nation Of A Billion, Lekeli47's Missy Elliot-standom left her fumbling for words:
"Important? What's a better word than important? Like, she's a walking legend…Missy is…I'm stuttering! She's that dope! She's that ill! She's the reason why I'm here. I'm one of Missy's kids, and I'm not scared to say that, you can take it how you want to take it. I'm confident in me, I know I'm dope, but I also know that I'm here because of women like her, and I'm grateful . She's beyond important, she's more than important, she's necessary, she's needed, and I thank her."
The list of artists of any gender, of the past, present, and future, impacted by Missy Elliot can go on forever. As women in rap continue to break hip hop's glass ceiling with viral raps, trending videos, and raw talent, Missy Elliott is there to provide a blueprint for how not to get boxed in. She continues to inspire generations of artists, empowering women to create on their own terms. Constantly showing love to fellow artists, newcomers, and veterans in the industry, Missy Elliott proves that any award she gets at any time is well deserved.