Missy Elliott is the first female rapper to get this major honor, and it's huge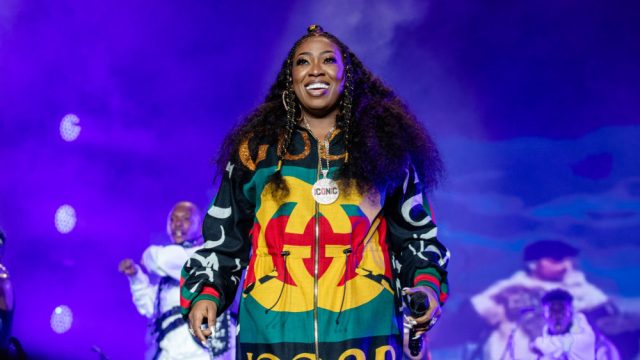 Ever since her 1997 debut single "The Rain (Supa Dupa Fly)," Missy Elliott has been one of the most iconic artists in hip-hop. She's released countless hits, made garbage bags look glamorous, and stole the spotlight at the 2015 Super Bowl Halftime Show. And now, she will officially be inducted into the Songwriters Hall of Fame (SHOF). BuzzFeed News reports that on Saturday, January 12th, Elliott was announced as one of 2019's inductees. The "Work It" singer is the first female rapper ever to earn this recognition; she and the other 2019 honorees will officially be inducted in a ceremony on June 13th in New York City.
A press release from the SHOF referred to Elliott as a "groundbreaking solo superstar, pioneering songwriter-producer, and across-the-board cultural icon." The release notes that Elliott is the only female rapper to have six certified-platinum albums. She has also helped write songs for Beyoncé, Ciara, Whitney Houston, Destiny's Child, and Mary J. Blige.
Elliott celebrated the news on Twitter, writing that she was "so humbly grateful" to be inducted. She also made sure to congratulate her fellow inductees.
In addition to Elliott, five other artists will be inducted in June—Dallas Austin, John Prine, Tom T. Hall, Jack Tempchin, and Yusuf Islam (known as Cat Stevens).
"The 2019 slate of inductees represents diversity and unity across genres and gender, highlighting our dedicated mission to honor music creators who have enriched our lives," SHOF Chairman Nile Rodgers said in the press release. "These are writers who in their time literally transformed music and helped make what's happening today possible."
It's safe to say that the world of hip-hop would look very different if it weren't for Elliott and her work. Congratulations to all of this year's inductees—especially Missy Elliott.