Missy Elliot surprised her "funky white sister" while she performed "Work It," and we don't know how she stayed so calm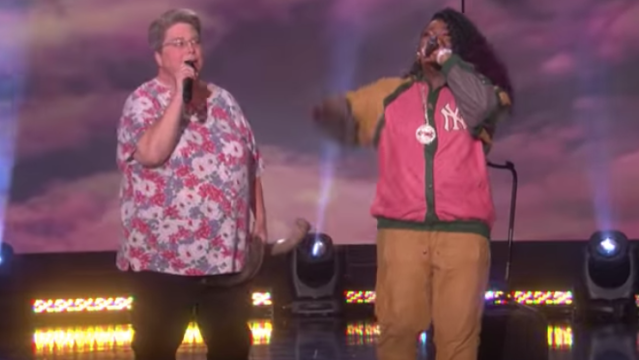 If you've spent any time on the internet at all over the last month, chances are high that you've seen the viral video of Missy Elliot fan Mary Halsey giving "Work It" her all while performing karaoke at a park. The sound effects, the missed lyrics, the rapping—all of it came together in a beautiful tapestry, creating a version of the song that will make anyone laugh. And this week, Halsey finally got to meet Elliot herself.
Shortly after the video went viral, Elliot saw it and immediately embraced Hasley as her "funky white sister"—that's how Halsey described herself during her karaoke performance—sharing it with her Twitter followers.
At first, it seemed to be enough that Elliot knew about Halsey and her skills; this was clearly not the first time this woman had performed "Work It," and now, all of the practice that led up to that moment had finally paid off. Just like Elliot said in her tweet, she killed it, and the internet has been obsessed ever since.
But now, Halsey has officially hit the big time. On Thursday, September 13th, she appeared on The Ellen DeGeneres show to talk about her rise to fame and to perform the song for the studio audience. Everyone was delighted by her rendition of "Work It" (including the show's other guest, Kristen Bell, who was loving it from her place offstage), but nobody more than Elliot herself, who came out on stage to surprise Halsey and perform with her.
https://www.youtube.com/watch?v=XD_Jgljk92g?feature=oembed
We've gotta hand it to DeGeneres on this one—we know that surprises are her specialty, but seeing the look on Halsey's face was priceless, and it was so good to see them rapping away together. True internet gold, y'all.
And as Cosmopolitan pointed out, later in the episode, Halsey and Elliot got to sit down together, and Elliot gifted Halsey a bedazzled shirt, while DeGeneres gave her a jacket that said "Missy's Funky White Sister" on the back. Is this the most perfect episode of The Ellen Show or what?