The internet is losing it over Miss Louisiana's yodeling ventriloquism act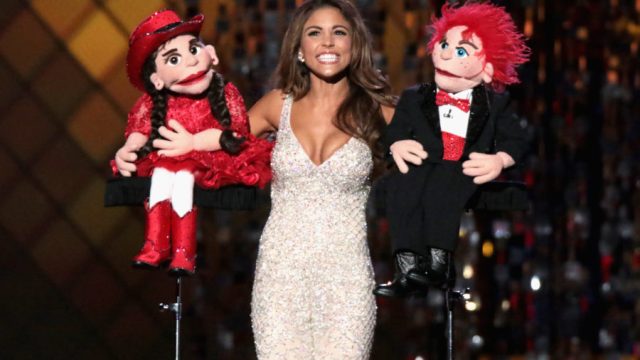 As per usual, the Miss America competition was chock-full of fascinating moments…but there was one moment in particular that truly captivated the internet. During the talent portion of the big night, Miss Louisiana's yodeling ventriloquism act stole the show, and it turns out ventriloquism is a longtime talent of hers.
Laryssa Bonacquisti (aka Miss Louisiana) took to the stage with two slightly terrifying puppets, showing off her rather unique talent: ventriloquism and yodeling. Yes, seriously.
The 22-year-old contestant charmed the audience by bringing her puppet pals, Lucky and Lucy, onstage to help her sing the 1935 country-western song "I Wanna Be A Cowboy's Sweetheart" by Patsy Montana, and she revealed after the pageant that she's been practicing ventriloquism since she was six years old.
In true Twitter fashion, pageant viewers took to social media with their truly hilarious reactions to Miss Louisiana's yodeling act, and their responses did not disappoint.
Many thought she absolutely nailed it and deserved to win.
https://twitter.com/udfredirect/status/907067987710152704
false
Some then fell down an internet rabbit hole trying to learn how to yodel (and same tbh!). false
Others were simply speechless.
Unfortunately, Miss Louisiana didn't take the crown, with the title going to Miss North Dakota, Cara Mund. However, if you ask us, Bonacquisti is still definitely WINNING.