The Miss America CEO fat-shamed and slut-shamed contestants in newly leaked emails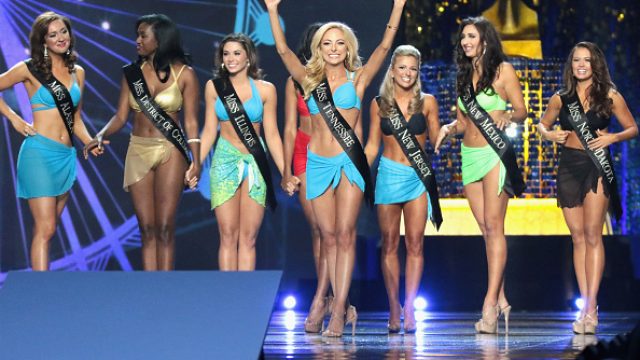 Beauty pageants are often criticized for encouraging sexist attitudes toward women. And while these pageants are getting more progressive overall, like any industry, sexism still exists among pageant leadership. On December 21st, the Huffington Post published emails from Miss America CEO Sam Haskell revealing years of sexist comments about former pageant winners.
Haskell joined the Miss America board of directors in 2005. In one exchange from August 2014, Haskell sent an email to the pageant telecast's lead writer, Lewis Friedman. In his initial email Haskell instructed Friedman to refer to former pageant winners as "Former Miss Americas" rather than "Forever Miss Americas."
"I'd already changed "Forevers" to "C-nts," Friedman responded. "Does that work for you?"
"Perfect…bahahaha," Haskell replied quickly.
Miss America 2013, Mallory Hagan, was slut-shamed and fat-shamed in several of Haskell's exchanges. In one email, Haskell wrote that Hagan's romantic partner at the time should be screened for sexually transmitted diseases "because we lost count of the number of men she slept with at 25." In a later email, he commented on a photo of Hagan by calling her "huge" and "gross."
Haskell also implied that Hagan was trying to sabotage his career, although there is no evidence that Hagan ever tried to slander Haskell.
Hagan, on the other hand, said that she felt Haskell had worked to ruin her future in pageant coaching. In a December 22nd message on Twitter, she said that she felt vindicated by the release of the emails. But she defended the women who work on the pageant and said that she has no desire for Miss America to end over the leak of Haskell's emails.
On December 21st, in light of these emails, Dick Clark Productions announced its decision to stop producing the Miss America pageant. The company said it had been aware of the emails for a few months.
Miss America 1989 Gretchen Carlson was also targeted in the emails for going against Haskell's wishes as a board member. Carlson tweeted on December 21st that the officials involved in the emails should resign.
The Miss America Organization said on December 21st that Haskell apologized to board members for his emails. But there was no mention of whether Haskell had apologized to the women named in the emails.
Haskell's comments about these former women are sexist, derogatory, and reflective of the toxic masculinity rampant across many industries. And while critics might say that of course there are problems with televised beauty pageants, that doesn't mean we should disregard the lack of respect shown to these women. We stand by the women targeted by Haskell and all victims of sexual harassment.