Miranda Kerr shared the first picture of her wedding dress, and it's pure Old Hollywood glamor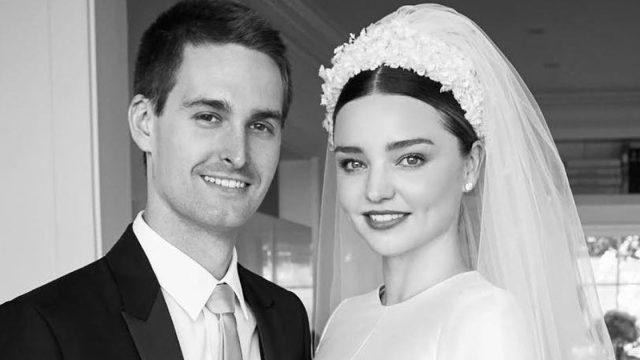 After tying the knot in May of this year, Miranda Kerr has shared  pictures of her white gown from her wedding to Snapchat founder Evan Spiegel, and it looks like something from a 1950s Hollywood movie.
We were so happy to learn that Miranda and Evan had gotten married. The couple, who have been together since 2015, held a small intimate ceremony at Evan's home, with just 45 guests in attendance. One source told People that the ceremony, which lasted for about 20 minutes, was very emotional. However, from the sound of it, the wedding was also super chill affair, with Miranda herself describing the day as "magical."
Now, thanks to Vogue, we've been given a closer look at Miranda and Evan's wedding, and her dress totally embodies Old Hollywood glamor.
The Dior Haute Couture gown was inspired by the dress Grace Kelly wore when she married Prince Rainier of Monaco in 1956, and it's stunning.
Speaking about the decision to go for a dress that had a high neckline and long sleeves, the former Victoria's Secret Angel said that she wanted to create "a sense of purity and mystery."
"I've had a lot of fun with fashion, and I used to be more wild, free, bohemian. But in this period of my life, my style is more pulled back," she told Vogue. "My greatest sources of inspiration have always been Grace, Audrey Hepburn, and my grandmother, who at 80 has an effortless chic: a nice pant, a white blouse, a scarf, a little heel."
The 34-year-old also shared a behind-the-scenes look at the fitting for the dress, for which there were two in total.
https://www.youtube.com/watch?v=qlB0m541Q3A?start=1&feature=oembed
Miranda gave followers this adorable snap of her and her husband from their wedding day.
We're absolutely besotted with Miranda's wedding dress, and we're still so over the moon for this beautiful couple.