Miranda Kerr tells us about the one beauty product that helped her with heartbreak, rose quartz, and her evening routine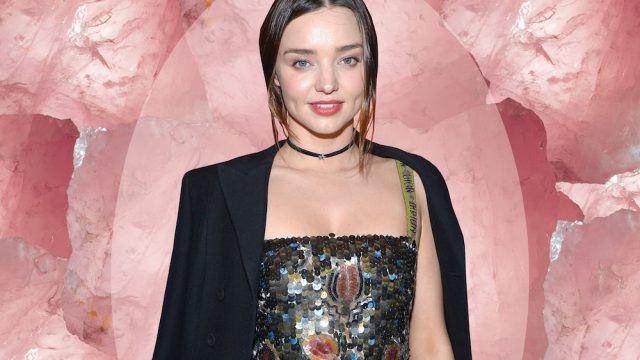 Trust, if you could have Miranda Kerr as your beauty/life/everything coach, you would probably jump at the chance. The supermodel and beauty brand founder speaks so passionately about beauty, self-love, and positive thinking, you'll fantasize about a girl's night in complete with face masks, crystals, and good convo with your awesome new BFF, Miranda.
Miranda started her skin care brand, KORA Organics, 10 years ago, and is now celebrating its stateside launch at Sephora. While the line contains exotic ingredients like Noni and products that can help heal heartbreak, it also has little affirmations printed on the back that can brighten up your day. For instance, on the back of KORA's Noni Glow Face Oil the word "bliss" is printed because, as Miranda explains, "There's this doctor, Dr. Masaru Emoto, who has done a lot of studies and found that the vibrational energy of a positive word has a positive effect on the user." These mantras printed on KORA products are generally "a way to take a moment out of your day and just be present."
While Miranda is all about health and wellness when it comes to body, skin, and mind, she also believes in balance. (Hopefully our new bestie won't judge us too much for ordering delivery from McDonald's this afternoon.)
In a phone call with HelloGiggles, Miranda talked about her decision to start KORA, why rose quartz is a crystal everyone can benefit from, and how motherhood has affected her beauty routine.
HelloGiggles: How did you decide to launch KORA?
Miranda Kerr: Well, I've been working in the fashion industry for 20 years, and I was always looking for a healthier alternative to what was on the market. I found that there were products that were organic, but they weren't certified organic. So I met with an organic chemist and started to develop these formulations together based around ingredients that were gentle but effective — and more importantly, safe to use.
And so, I started KORA Organics about 10 years ago in Australia. After two years of development with samples going back and forth, we launched in 2009. And now, eight years later, we're launching in America with Sephora. This is my company, and it's my baby, it's not like I just put my face to a brand. I've done all the funding myself, and actually getting it to this point where we can launch across every store across America is really a dream come true.
HG: You use the Noni ingredient in your line. Can you explain what that is and how it helps with skin care?
MK: My grandmother, who was very much into health and wellness, introduced me to Noni juice when I was about 13. It derives from the Noni fruit and is a superfood that really supports your body inside and out. I used to drink it every day in liquid form, and if I had an outbreak or a sunburn, I would put the juice on my skin. I noticed that it was effective and that I had quite an increase in energy. So I was like, I really should have this as a hero ingredient because it's something that I believe in so much. It's a really powerful antioxidant, high in vitamins A and C, and it's anti-aging, antibacterial, anti-inflammatory, and anti-fungal. It boosts your immune system as well, so, to me, it made complete sense to have it as the key ingredient across all of my products.
MK: This aromatherapy oil was created for me when I called my aromatherapist in Australia and I had said to her, "I'm going through a really hard time." It was when Orlando and I were divorcing, separating. I was depressed and so she created this oil for me and I used it every day. It really helped transform my moods. It was very uplifting, it felt really nurturing, and I felt supported through the scent. There is so much research behind aromatherapy and its benefits. And it contains rose quartz and has rose otto, which really helps open your heart and your mind and really invoke feelings of love and happiness. It also has sandalwood, a grounding oil, which helps you to feel really centered and balanced. Then there's ylang-ylang, which they say is known to create a feeling of joy and hope. And cedarwood, which helps mental focus and vitality. So I use this oil throughout the day and as my actual fragrance because it smells divine. I say it feels like you're getting a hug. That's the closest thing I can compare it to.
HG: I love that you use rose quartz in your line. Can you explain how it plays an important part in it?
MK: All our products are energized with rose quartz through a filtration system, because rose quartz is such an incredible crystal that is used to promote self-love. Every single one of us is our worst critic, and I believe that we need to appreciate and love ourself on a daily basis. If we can only be gentle and kind to ourselves, then we can be gentle and kind to others, you know? Rose quartz is really good for that. I have always carried one with me, so incorporating it into my brand was a no-brainer.
HG: Can you describe what your nighttime skin care routine is like?
MK: Well, I do mix it up a little bit, but, pretty much as soon as I get home from work, I like to just take off my makeup and slip into a robe. We have a really great cream cleanser, which I love to use to remove makeup because it's really gentle. And then I will tone my skin with a lavender mist at night because it calms and helps promote restful sleep. I use our citrus mist in the day because it's energizing and the aromatherapy benefits of it are really incredible. I'm obsessed with them. And then, I put a few drops of the Noni Glow Face Oil with the soothing moisturizer.
I like to mix the Noni Glow Face Oil with my moisturizer because it's just a really luxurious way to do it. You can use it on its own because it's super hydrating, it balances the pH levels in your skin. And then I use the body oil. I used to have dry skin on my legs and no matter what I tried, they were never hydrated enough. Ever since I've been using the Noni Glow Body Oil, it's just completely transformed the skin on my legs. I'm super obsessed with that. Sometimes I'll put a mask on if I need to purify my skin and we have a purifying mask.
HG: Do you have any go-to makeup products that you always use?
MK: Do you know the brand RMS? I love her concealer, which is really great. It's pretty close to being certified organic even though it's not actually certified, but it's pretty natural. And I really love the Lancôme mascara, I think it's called Doll Eyes. They also make a really good, old-school Hollywood red lip, which is really cool. And RMS does a lip to cheek, which I just use for my cheeks because I love a little blush. And KORA lip balm. I always have tweezers because I'm obsessed with having a brow line — I don't like it when my brows are crazy. I like that product from Glossier, the Boy Brow, in the brown color.
HG: Are there any drugstore beauty products that you use regularly?
MK: Well, I have mini-toothbrushes in my bag because I'm obsessed with having clean teeth, and I always bring dental floss. Maybelline mascara is pretty good, that one that's pink and green.
HG: Oh yeah, the Great Lash. How has motherhood changed your beauty routine?
MK: I guess it's just more efficient. I need to use products that work and that I can use quickly, with less fuss. But I really noticed a big difference when I make sure that I cleanse, mist, and moisturize morning and night. If that's just the bare minimum I do, I've noticed that my skin is glowing. Just making sure I remove all the makeup from the day, like if I've had a big photo shoot or an event or whatnot. It's really important that my skin is clean.
HG: What KORA Organics products would you say are must-haves?
MK: I would say for sure the Noni Glow Face Oil because you'll see a big difference when you use that. And the Heart Chakra Aromatherapy Oil, and the Skinfood supplement. That way you're covered mind, body, and skin.
You can shop KORA Organics at Sephora online and in-stores.