Miranda Cosgrove spills all about her "Despicable Me 3" character — and her favorite Minion moment
Despicable Me is nearly back with its third installment, in which Miranda Cosgrove reprises her role as Margo — the eldest of three sisters and adopted daughter to reformed villain Gru (Steve Carell) and his badass wife Lucy (Kristen Wiig).
In advance of Despicable Me 3's release this Friday, June 30th, Cosgrove tells HelloGiggles all about why she loves voicing her character, what her character is like this go around, and her relationships with her colleagues. Oh, and of course we asked about her favorite Minion moment.
So, without further ado…
HelloGiggles: What do you love about your character, Margo?
Miranda Cosgrove: I love the way she dresses. I think that her style's really cute. She wears a schoolgirl shirt with Converse-type shoes. And I also really like the way she is with her sisters. I'm actually an only child in real life, but a huge part of her character from the first Despicable Me is that she's kind of been like her sisters' mom, since they're orphans in the first movie. So, she is really protective of them, and I like her relationship with them.
HG: Do you have a sisterly relationship with them offscreen?
MC: It's pretty crazy. I did the first Despicable Me [when] I was, I think, 13 or 14. Now I'm 24, so I do feel like I've grown up since I did the first movie. I'm sure that Dana [Gaier] — who plays [Edith,] the middle sister — feels that way too. I think she was 11 when we first started. I've gotten to know them pretty well, and it's been really fun. I love all the people that are involved in the movie, and it's been really cool to get to see it come to life — [from] the first sketch of a minion that I saw when I was little and first came in to record, to now. It's pretty cool.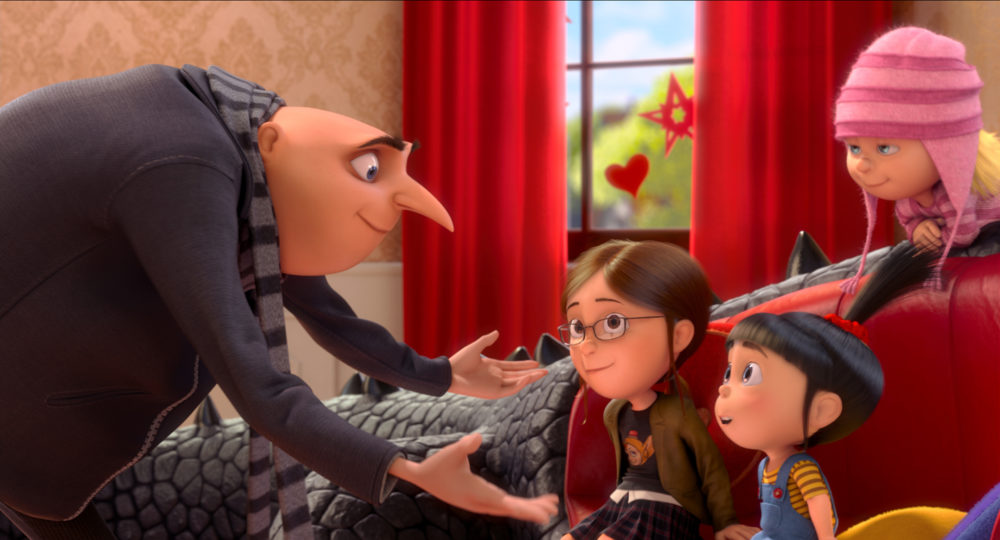 HG: What is your relationship like with Steve and Kristen, and is there something that you've taken away from them or their performances that you've carried with you as an actress?
MC: I think Steve is really cool, just from doing the press tours for the last two movies. I got to go to Australia with him for the last one, and I just had such a good time with him. He was really happy all the time, and he just seems super happy to be there. Not that he literally was giving me advice, but just being around him and seeing how much he enjoys everything, I think that's just good to see anybody be like that in life. It's just cool that he seems like he tries to enjoy every moment. And he seems really proud to be a part of this film, and excited by it. So I think that's cool, because he's been acting for such a long time.
HG: Is there something new that you discovered about Margo in the process of bringing her to life again for this third film?
Miranda: Yeah, it was fun. For this movie, a lot of my parts are kind of in the beginning. I'm sort of being mean to Lucy, Kristen's character. I think she's kind of dorky, and it might be because my character is used to trying to be the mom. So, it's different for her. But, I really liked getting to do the scenes with her in the movie. I just thought that it was sweet to see the character really getting to know Lucy and care about her.
HG: What makes you keep coming back to these films, time after time? Why do you love these films so much, and being a part of them?
MC: I have a great time getting to record, because you're in this little sound booth. And the directors are really cool. They're on Skype from Paris, where they do the animation. They basically say, "Do it a million different ways." And then, also, "Do whatever you want with it." So it's fun because you're free to try so many different things. It's not the same as doing a sitcom or something where you only have so many takes, and there's an audience watching. There's just so much freedom in it, so it's really fun.
HG: Lastly, do you have a favorite Minion moment from this third film?
MC: I really like when the minions are wearing the coconut bras. It's actually toward the very beginning of the film when the girls are trying to do up the treehouse and make it seem like a honeymoon, like Hawaii. They sing this little, it's probably like a 20-second song that they sing. It's in their Minionese. I think one Minion hits the other and his coconut bra falls off or something. I thought it was really cute.