Watch Mirai Nagasu land a triple axel at the 2018 Winter Olympics like it's NBD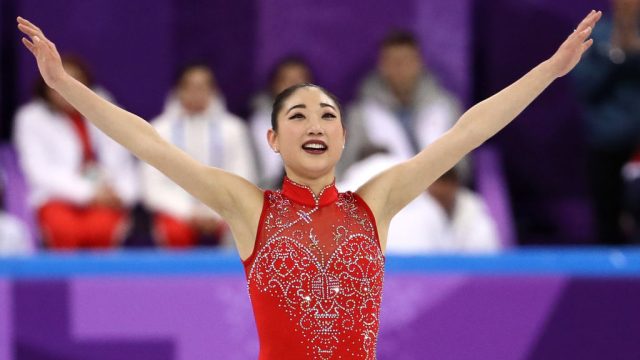 My favorite part of the Winter Olympics has always been figure skating, and tonight was an especially exciting night for us figure skating fans: Mirai Nagasu made history by being the first American woman to land a triple axel at the Winter Olympics. The 24-year-old, according to Yahoo Sports, became only the second American woman to successfully pull off the triple axel at an international competition — the last time a woman achieved this was 27 years ago, and her name was Tonya Harding. This was at the 1991 World Championships.
Here's what we know about the now legendary Mirai Nagasu. First, she's placed at the Four Continents Skating Championships three times. In 2011 she won bronze, in 2016 she won a silver, and in 2017 she won bronze. She was a JGP Final champ, and she's also placed at the World Junior Skating Competition twice, winning silver in 2007 and bronze in 2008. She's also a seven-time U.S. National medalist. So yeah, she's pretty damn talented. Did I mention she's only 24?
The figure skater told Andrea Joyce from NBC, "To nail that triple axel, I tripped a couple times going into it, but I told myself, 'No, I'm going to go for it and I'm not pulling back." She added, "That was really special for me."
Watch Nagasu flawlessly land a triple axel at the 2018 Winter Olympics right here:
"It's a lot of pressure and stress to come out here — and it was my goal and my dream to be here and to be selected to the Olympic team. So I knew going into it the amount of responsibility that I was given, and so as athletes we want to represent our country to the best of our ability and you know — Midori Ito, Mao Asada and now Mirai Nagasu, all of Japanese heritage.
"But I'm very fortunate that I'm American and so I'll be the first U.S. lady to have landed the triple axel. And so today is a day of accomplishment for me, she continued. "However, my Olympic experience is not over and I'm excited to go home and recover for a little bit and still soak in every second of this.
Nagasu is from Montebello, Los Angeles County, but grew up in Arcadia, California, and her parents are Japanese immigrants. She completed Capistrano Connections Academy in 2011, and although she was accepted to the University of California, Irvine, she couldn't attend, due to the long commute. She's been skating since she was five years old.
Twitter is on FIRE after Nagasu's epic performance:
A huge congrats to Nagasu! You nailed it, sister.