How to Do a 5 Minute Face for New Year's Eve
Celebrity makeup artists share how you can get glammed up and out the door in a flash.
The product recommendations in this post are recommendations by the writer and/or expert(s) interviewed and do not contain affiliate links. Meaning: If you use these links to buy something, we will not earn a commission.
New Year's Eve is the perfect excuse to get glammed up — but you want to spend the night toasting and celebrating, and not at your bathroom mirror putting on makeup. The perfect going-out face can be applied in 5 minutes or less, say makeup artists, and with these tips, it'll last you long after the ball drops at midnight.
"Long-lasting really is key here, because bathrooms are crowded, events are hot from all the body heat, and it's best to avoid having to do touch-ups if possible," says Backstage Stylist Genn Shaughnessy, who has worked with Judy Greer and Christina Hendricks. 
RELATED: 40 Questions to Ask Your BFF to Find Out How Well You Know Each Other
So set your timer and get ready to countdown to the New Year. Here is a step-by-step guide to a flawless 5 minute face for NYE night-out.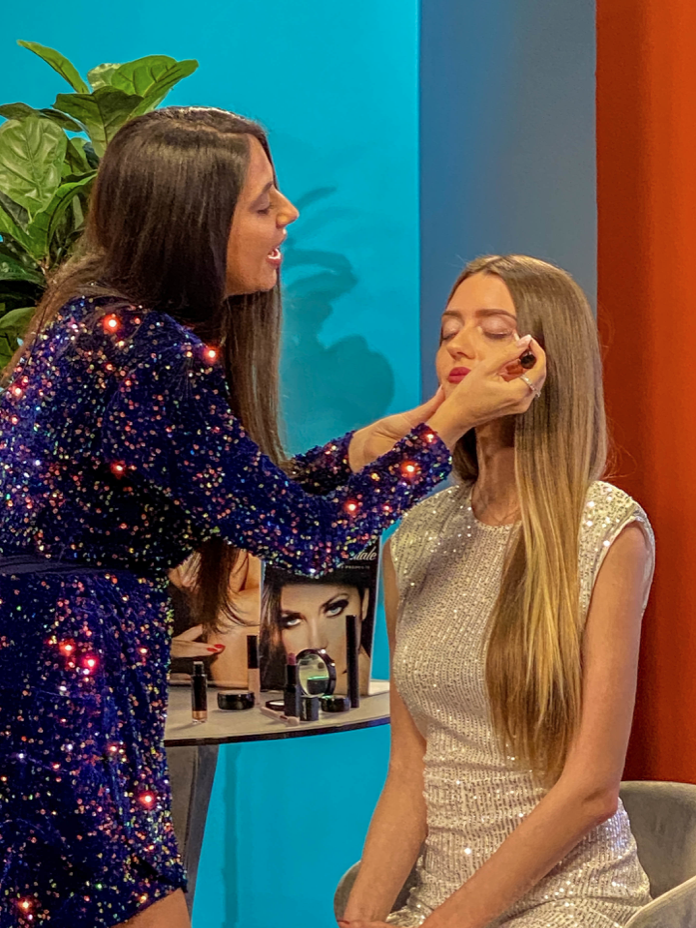 1. Prep skin for longevity
In order to stay fresh till the midnight hour, start with a fresh face. "The key is starting with a fresh palate of skin that has been cleaned, toned and moisturized for prime application," says Nev Tomic, founder of La Beaute Fatale cosmetics. "You can achieve this by using skincare with natural ingredients so the alcohol from added fragrance doesn't dry out your skin from the get-go," says the makeup artist, who has worked on models at New York Fashion Week.
"It is also ideal to apply a makeup primer after moisturizing, to even out the skin tone, and provide a smooth base for makeup. Don't forget eye cream with a tint to save time on your concealer!," she adds.
2. Come color correct
Next, some quick spot treatments make all the difference. "You will want to target blemishes, dry spots, and under-eye circles with a color correcting palette so you can begin layering your face foundation, concealer and powder," advises Tomic. A quick application of color that contrasts your skin tone will help you brighten dark or red spots.
Glow up even further by mixing a 'strobe cream' like the one by MAC, or a pearlized pigment in with your foundation, and follow it up by setting with a translucent HD setting power, suggests Shaughnessy. This will help you achieve that dewy youthful look and prevent makeup from looking dull and cakey.
3. Cover your bases
Apply base and concealer in one, and contour, all at the same time. "You can achieve a quick face application by applying darker shades to the outer lining of your face (closer to hair line and jaw) then gradually move into light colors as you approach your eye and center of face," suggests Tomic.
This is a trending beauty hack that's known as 'underpainting.' "By applying foundation and concealer in this manner, you can save time!," advises Tomic.
4. Getting a bold eye
A few swipes of tinted brow gel to tame those brows, and you are now ready to glam up your eyes. "Using a brow gel with fibers can help add volume to your brows so you can skip the time-consuming step of filling in brows," says Tomic.
Next, move on to eyes, and apply the lightest eye shadow shade to the corner of your eyelid and blend up to the crease using a shadow brush. Or better yet, pick a cream or liquid shadow — it'll last longer, says Shaughnessy.
"In the crease, you can apply one swipe of a bold color and blend generously with a thick eyeshadow brush all the way up to the brow bone. Line your bottom lash line with the same color shadow to skip eyeliner, and get a cohesive look. Finish with a couple coats of waterproof mascara, and if time permits, a dramatic lash application can really level you up," says Tomic.
5. A little lip service
Putting Vitamin E on the lips is a huge beauty secret that is a great way to prep lips for an optimal high-pigment color, explains Tomic. "From there, you can apply a shiny colored gloss as your base and add lipstick on top! You heard that right, lipstick on top of the gloss will give you a cool gradient color, and lock the moisture in for a full night of dancing, drinking and fun," explains Tomic.
Finishing touches…
You can take that same lipstick or colored gloss, dab it on cheekbones, and blend. A quick spritz of makeup setting spray, and you're out the door!
Jené Luciani Sena is an accredited journalist and internationally-renowned bestselling author, regularly seen on national TV outlets such as Access Daily, Today and Dr Oz. Touted as one of Woman's World Magazine's "Ultimate Experts," she's a TEDTalk speaker and a busy Mom of 4.
Read more