This Los Angeles coffee shop is honoring Minnie Mouse in the cutest way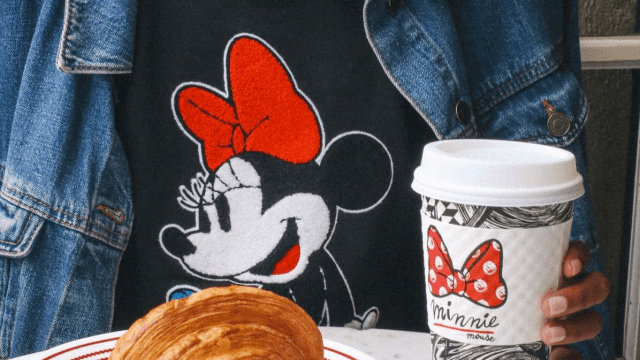 Attention, Disney fans. If you live anywhere in the vicinity of Los Angeles, you're going to want to make a beeline for your nearest Alfred Coffee location ASAP, because they're honoring Minnie Mouse this month in the absolute cutest way.
For the month of January, the iconic Minnie Mouse is being celebrated in a really unique way: The coffee shop (a favorite caffeine hot spot for celebs like Vanessa Hudgens) is offering Minnie-themed cup sleeves that are sure to make for the perfect Instagram moment.
As if we needed another excuse to 'gram our morning latte, these cups will give you a daily dose of Disney magic, which is something we could all use at the start of the new year, right?
Alfred Coffee hinted at the collaboration a few days ago, and it's everything we never knew we needed in our morning cup of joe.
Now, of course, fashionistas and Disneyphiles alike are flocking to the chain's six California locations to get their Minnie-infused lattes, making all non-Angelenos rife with jealousy.
Check out some of the cutest 'grams so far to see how people are rocking the dots with Minnie on their to-go mugs.
Some people stopped by the shop before heading to Disneyland for a Minnie cake pop, which sounds like the perfect sweet treat.
You can get yours hot.
Or iced.
Or you can try both! (Can we please?)
Minnie isn't just taking over the lattes at Alfred's, either…in fact, she's getting her very own murals on the walls of the shop's Melrose Place and Studio City locations.
It just goes to show that when you wish upon a star, your dreams of Minnie-themed coffee can come true.