This artist's minimal approach to Disney characters at their vanities is brilliant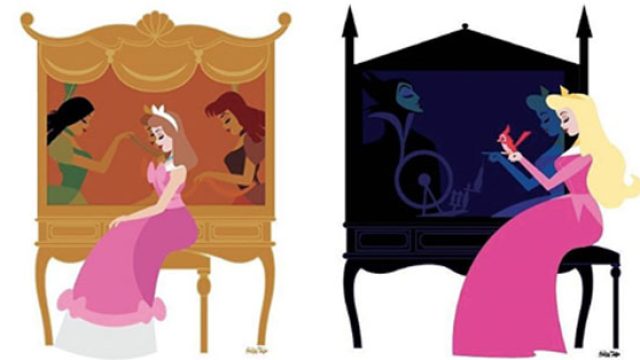 Ashley Taylor is an Orange County, CA based artist who has a brilliantly minimal approach to reimagining Disney characters.
In particular, we are LOVING her series of Disney characters sitting at their vanities. Not only are the illustrations gorgeous, but they're also very clever in telling snippets of these famous characters' stories.
Cinderella and her wicked stepsisters.
Live-action Cinderella with animated Cinderella.
Ariel and Ursula's voice-catching necklace.
Anna with her beloved sister Elsa.
Mulan and her dreams.
Sleeping Beauty and her evil fate.
Wendy trying to sew Peter Pan's shadow.
Tiger Lily giving Peter Pan a kiss.
The Blue Fairy and her loyal Pinocchio.
Sally getting charmed by Jack.
Belle remembering that rose.
Jasmine planning how she'll beat Jafar.
Snow White and the Evil Queen.
Tiana escaping Dr. Facilier.
Charlotte La Bouff holding her dear friend.
Rapunzel and Mother Gothel.
Esmeralda and her buddy Djali.
Jane reaching out to touch Tarzan.
Alice learning things from the flowers.
Megara cozying up with Hercules.
Mary Poppins in and out of Bert's chalk world.
And finally, live-action princess herself Giselle in Andalasia and NYC.