Cute mini skirts that can be dressed up or down, and paired with literally anything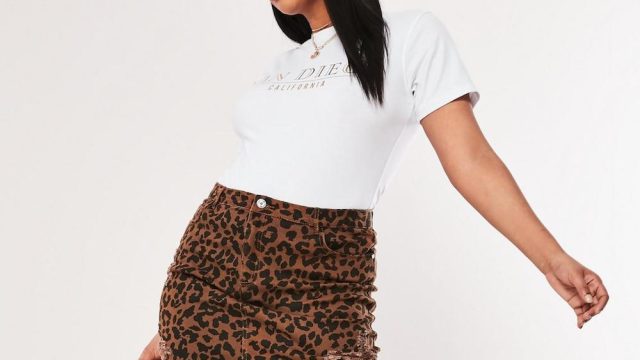 In the past, mini skirts have had a tendency of going in and out of fashion. One moment they're all you want to wear, and the next you only have eyes for longer, fuller skirts. But if we've seen anything in the last several seasons, it's that mini skirts are not only back for good (hopefully), but they're actually more versatile than ever before.
Whether you're looking to dress it up for a night out with a pair of heels, or wear your mini skirt with sneakers and a T-shirt, the possibilities are really endless. As are the different patterns, textures, and fabrics. From denim to pleather to literally everything in between, your options are limitless when it comes to finding the mini skirt of your dreams this summer.
Below, we've hand-selected 15 mini skirts that we're confident you'll love and want to wear all summer long.
1 GAP Mariner Button-Front Denim Skirt
The perfect pop of color.
2 Missguided Plus Size Brown Leopard Mini Skirt
For the "leopard is a neutral" crowd.
3Zara Fringed Mini Skirt
So cute with sneakers for a more casual look, or black stilettos for a night out.
4Zara Chain Printed Pleated Skirt
For when you can't decide between pleats and prints.
5 Urban Outfitters Nana Judy Dazed Patent Zip Front Mini Skirt
Lara Croft-chic.
6 Sunday Best Olive Skirt
We love the preppy vibe of this skirt, available in different colorways.
7Urban OutfittersBDG Serafina Printed Pelmet Mini Skirt
We get serious vacation vibes from this cute blue and white print.
8Topshop Giraffe Double Buckle Mini Skirt
Is giraffe print the new leopard print?
9 Agolde Quinn High-Rise Skirt
The perfect distressed denim skirt.
10 Alice + Olivia Shaylee Asymmetric Crepe Mini Skirt
From the looks of it, the neon trend might just stick around forever.
11 ModCloth Own The Era Mini Skirt
You won't want to take this bright, sunny mini off.
12Michael Michael Kors Embroidered Denim Mini Skirt
How chic is this patchwork?
13Levi's Blue Denim Essential Mini Skirt
A must-have in everyone's closet.
14H&M Paper Bag Mini Skirt
As comfy as it is cute.
15 BLANKNYX Asymmetrical Denim Mini Skirt
For a trendy take on your usual denim skirt, opt for this asymmetrical version.