We just got a mini "Friends" reunion before the big one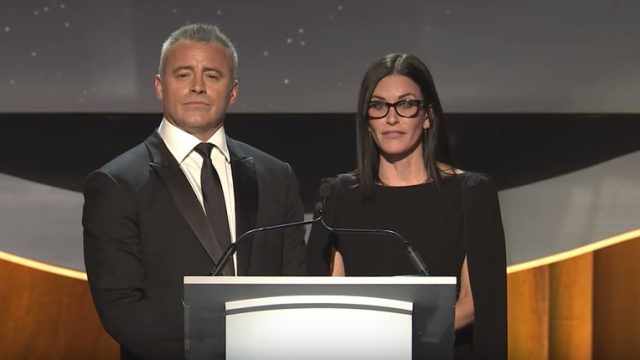 Attention all Friends fans eagerly waiting the show's televised reunion next weekend: On Saturday night, we were treated to a little preview. Courteney Cox and Matt LeBlanc reunited at the 2016 WGA Awards, and Friends fans everywhere rejoiced. If we didn't know any better, we'd think this was "The One Where Joey and Monica Present an Award."
Monica and Joey co-presented the Writers Guild of America's Paddy Chayefsky Laurel Award for Television Achievement to Marta Kauffman and David Crane. Do they sound familiar? It's probably because they co-created Friends together. Theirs are the names you see on the screen at the end of each episode. (And if you're a serious Friends fan, you'll recognize their voices—and Marta's amazing laugh—from the DVD commentary.) The two have been writing partners for 27 years!
"Marta and David have been writing together since college. They've written plays, movies, TV shows, not this speech…" Matt joked. "They made us look good. And more importantly, they made a great show that is still devoured by audiences 22 years later."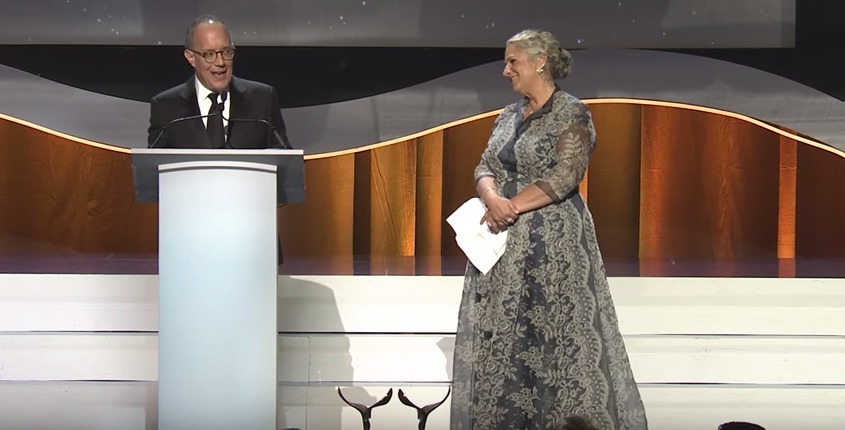 After Friends ended in 2004, the two continued to find success behind the camera. Most recently, Marta co-created Gracie and Frankie, and David co-created Episodes (which stars Matt LeBlanc). Matt refers to them as "very talented and very dear friends." So who better to present a very special achievement award than two actors who brought to life two of their most beloved characters?
"We were young together, we wrote together—we didn't know what we were doing, but we were together," said Marta after accepting the award. "I am so grateful for every one of those moments—the successes and the failures."
"[The actors] really did take the words and make them something we never expected," David echoed. "And they did it every week for 10 years."
Check out the entire clip below. It's over 13 minutes long, but if you're a Friends fan, it's a must-watch! Courteney and Matt's introduction is sweet and laugh-out-loud funny, as are Marta and David's acceptance speeches.