12 mini dresses for tall women that won't leave you feeling completely exposed
Mini dresses and I have always had a bit of an "it's complicated" relationship. I love them and everything they stand for (the sexual liberation movement of the '60s and all that good stuff), but as a tall woman standing at 5'9″ it can be hard to find a dress that I feel comfortable wearing. With a body that's mostly legs, I sometimes like to show off my most prominent feature, and the struggle is in finding a mini dress that doesn't show off all the rest of the goods at the same time.
In my teenage years, the Forever 21 dressing room became the place my trendy tall girl dreams went to die. I remember going to the store with my friends and collecting a pile of dresses I loved on the rack, only to learn that they looked like just slightly long shirts on my body. I would turn around and look over my shoulder to see how the dress looked in the back, bend slightly forward and then, yep, there it was: my whole ass peaking out. I would dramatically give the rejects to my 5'6″-and-under friends, telling them, "If I can't have this dress, I want you to."
Forever 21 wasn't the only place where I had this experience growing up. I found that most stores that catered to women in their late teens and twenties didn't have viable mini dress options for women 5'9″ and over—but that's also because I never knew exactly where or how to look. To help other tall girls who find themselves in the same situation, I spoke to Brittni DiTomasso, a senior stylist for the personal styling service Nordstrom Trunk Club, to get her tips and tricks. As a fellow 5'9″ woman, DiTomasso says the first thing she does when shopping for herself or other tall women is to look at the dress length.
When looking at dresses online, this just requires scrolling down on the site and looking for the listed length in the product details.
DiTomasso uses 34 inches to 34.5 inches as a length basis point for herself and other women her height or taller. "If it's 32 or 33 [inches] long, it's out, it's not even an option," she says. "I'm not even going to send it to [a customer]. I'm not even gonna put it on [them] because it's not going to work, and it's going to make them feel uncomfortable." As a tall woman, finding a dress that isn't going to reveal your nether regions is a big concern, but it's also about finding something that you won't be fidgeting in and constantly pulling down all day.
So finding out what dress length feels right on your body is a great place to start. "It's not the perfect method," DiTomasso says, "but once you know that number, things change for you." When this number isn't available online, use your other resources. Look for details, like the model's height, to determine from pictures if the dress looks long enough for you. DiTomasso also says it's important to know your body shape and which dress silhouette you like most on your body, whether that's a fit-and-flare, a sheath, a shift, etc. From there, it's just about what makes you confident. "Usually, if you're sporting a mini dress, you like to show off your legs. So embrace that. Have fun with your shoes, have fun with a print. It's your statement," she says.
Once you have some points of reference in your back pocket, knowing which brands have good options for tall women will help narrow down your mini dress search. DiTomasso specifically advocates for the brands Madewell, Free People, Reformation, J.Crew, ASTR The Label, Veronica Beard, Halogen, Equipment, and Tanya Taylor.
Shop 12 mini dresses that are perfect for tall women below.
Rails Helena Floral Mini Dress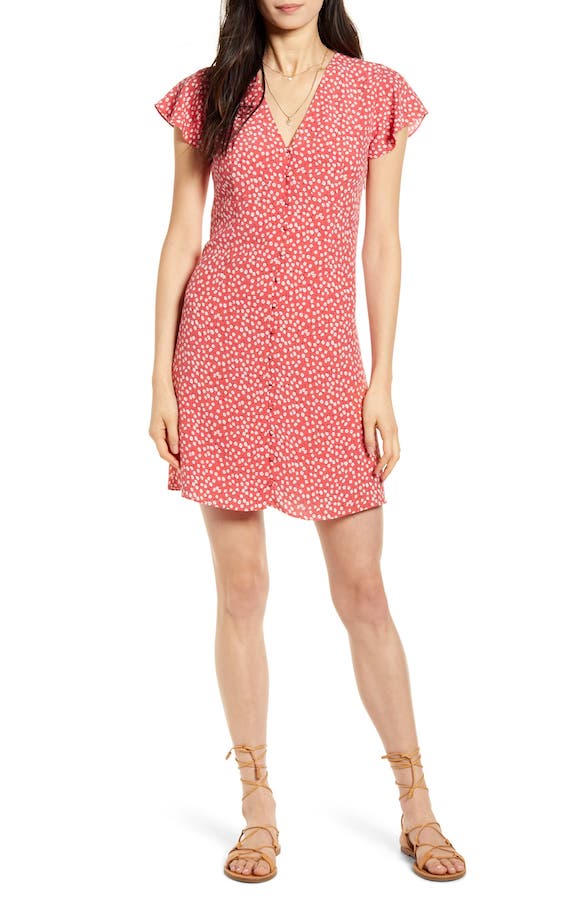 This dress is one of DiTomasso's favorites. "I have it in two prints. It's so cute, and it's the perfect length. I wear it with my gladiator sandals all summer long," she says.
Madewell Short-Sleeve Tiered Mini Dress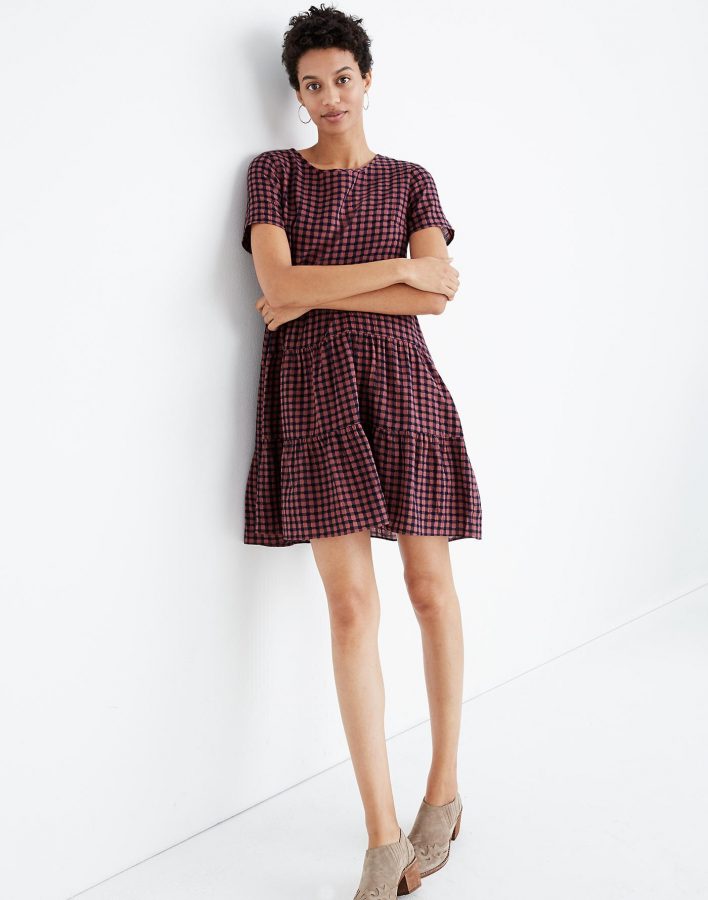 This mini dress is a comfortable 36 inches long, and the tiers help add more visual length. Plus, the print and color make it a great transitional piece that could be worn in the summer with sandals or in the fall with a sweater and boots.
Madewell Cross-Front Button Dress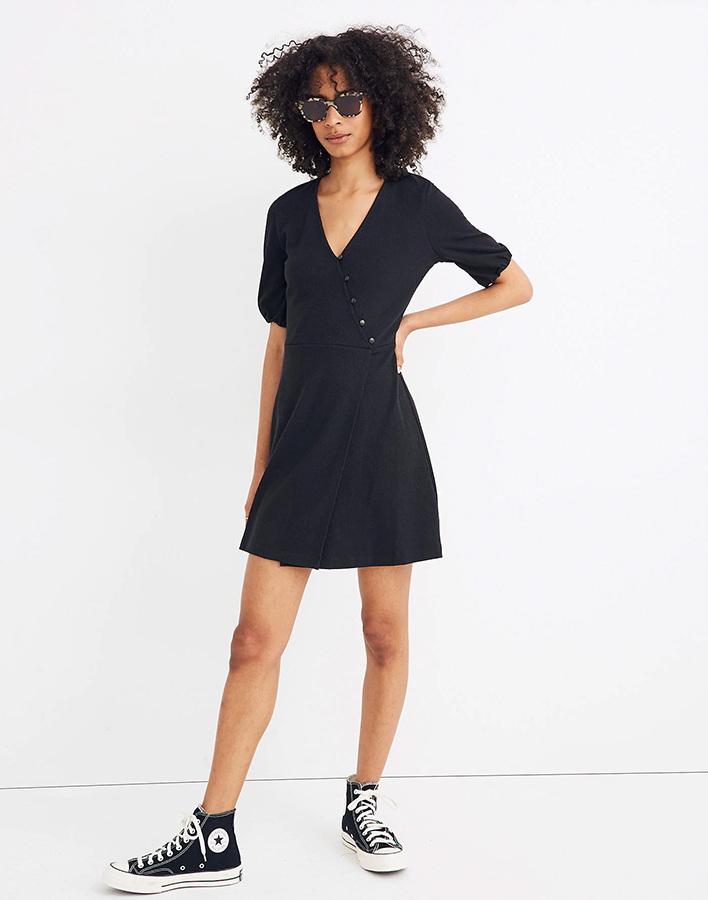 This is a tall girl's perfect LBD. The cross front adds a flattering neckline, and the dress is 35 3/4 inches long.
ASTR The Label So Smitten Ruched Mini Dress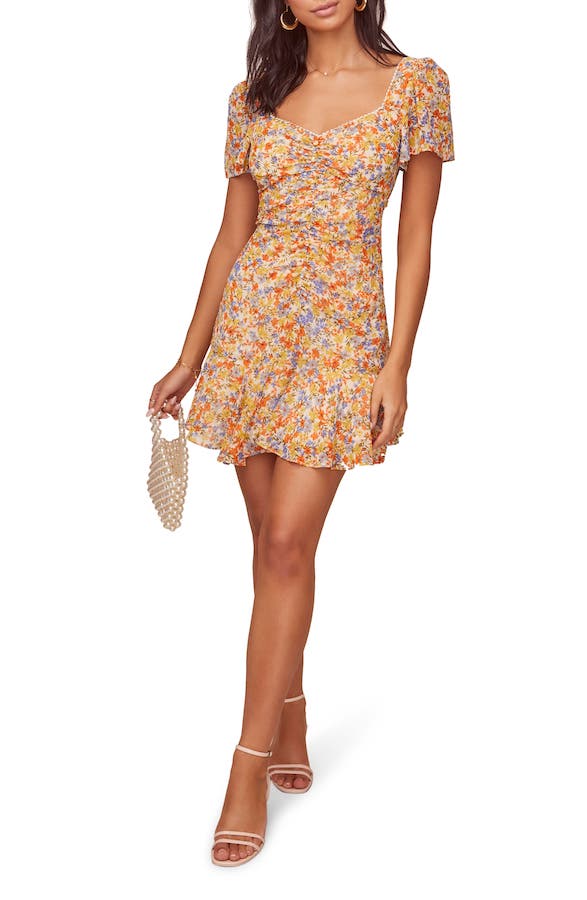 This floral mini dress has a 36-inch length and delicate ruching details for a sweet and summery look.
Madewell Embroidered Pintuck Mini Dress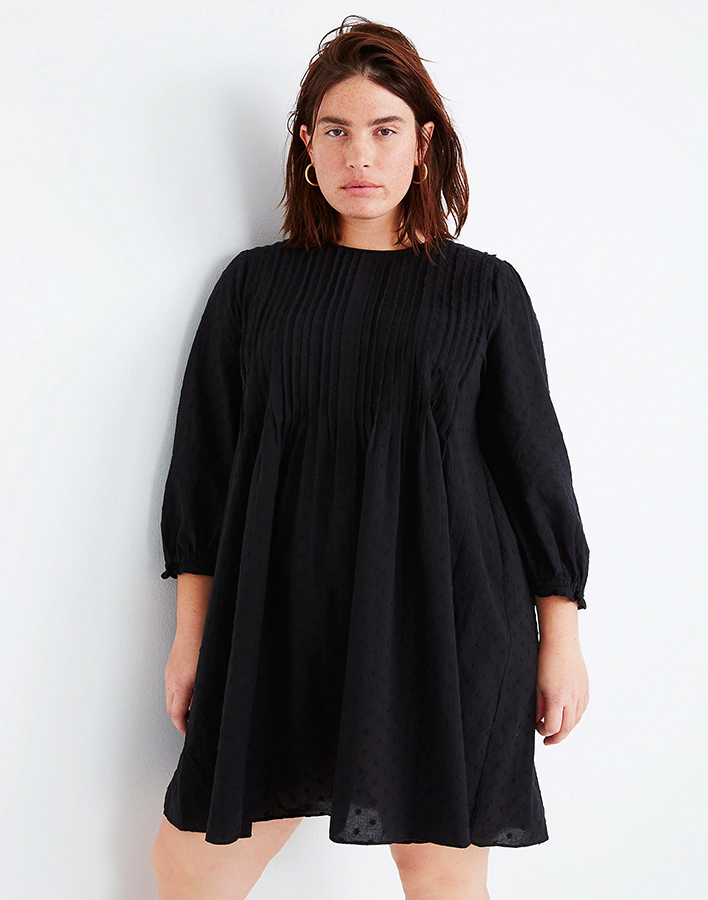 As a stylist, DiTomasso loves contrasting proportions, especially in the form of mini dresses with long sleeves and high necks to balance out bare legs. This long-sleeved mini dress from Madewell hits the mark and is made in breezy cotton that works for warmer weather. The dress is 36 inches long.
ASTR The Label Dancing Queen Mini Dress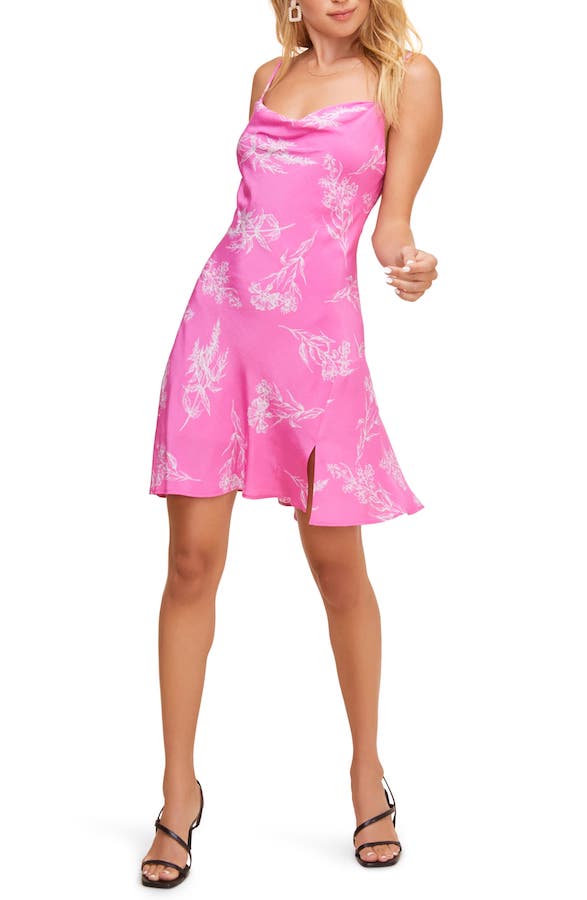 This dress was made for dancing. Though the site doesn't list the exact measurements, it has adjustable straps so that you can elongate the back if needed.
Who What Wear Leopard Print Puff Sleeve Dress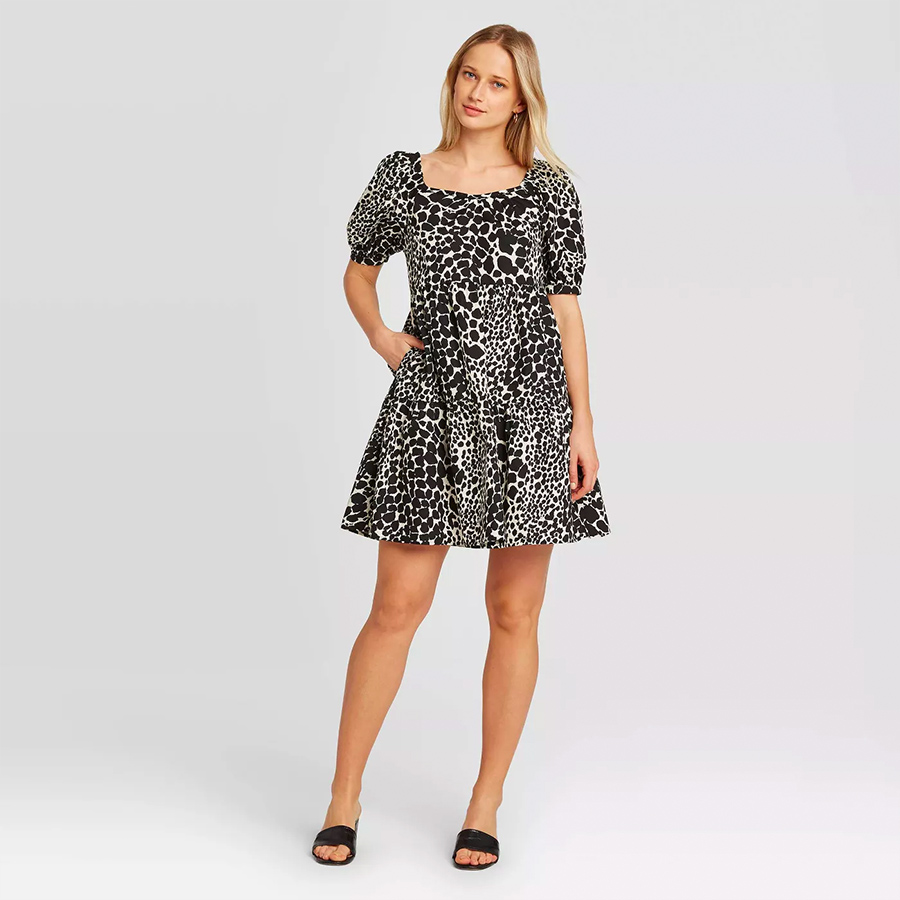 At 34 inches, this dress could be cutting it close on length, but the bold print and loose, casual fit add some distraction.
J.Crew Denim Shift Dress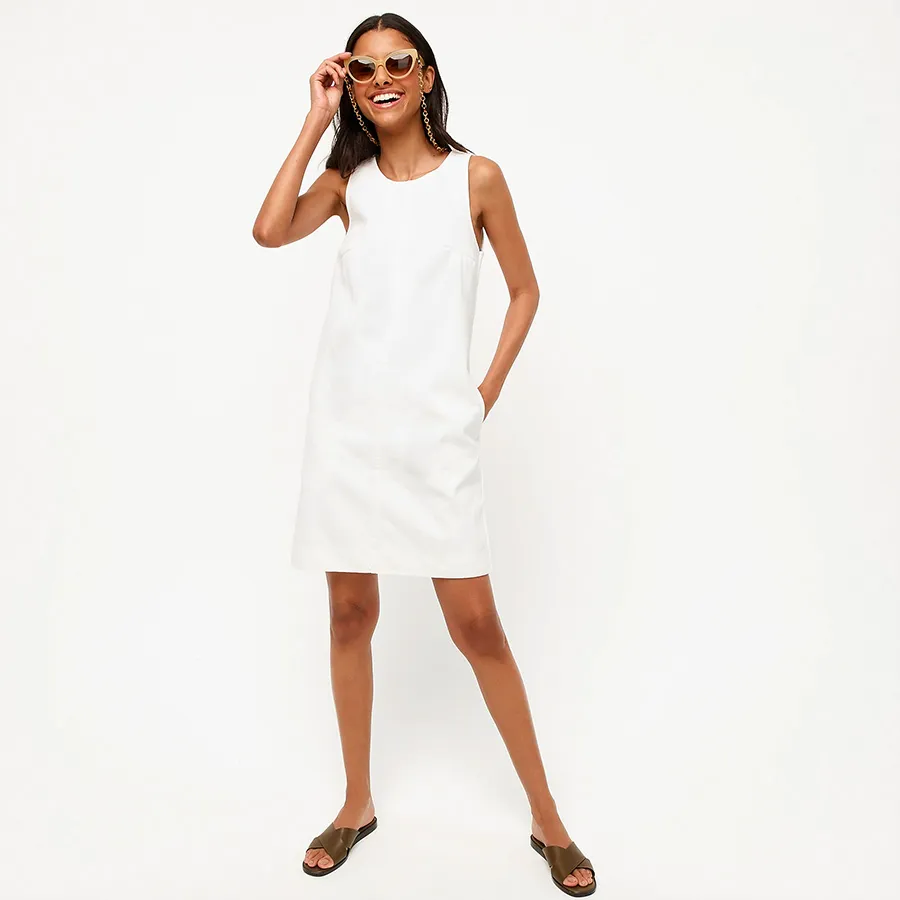 Looking to add some timeless mini dresses to your collection? Look no further. This classic shift dress in white is the perfect easy summer piece. It has a straight fit and is 35 1/2 inches in length.
Who What Wear Plus Size Long Sleeve Dress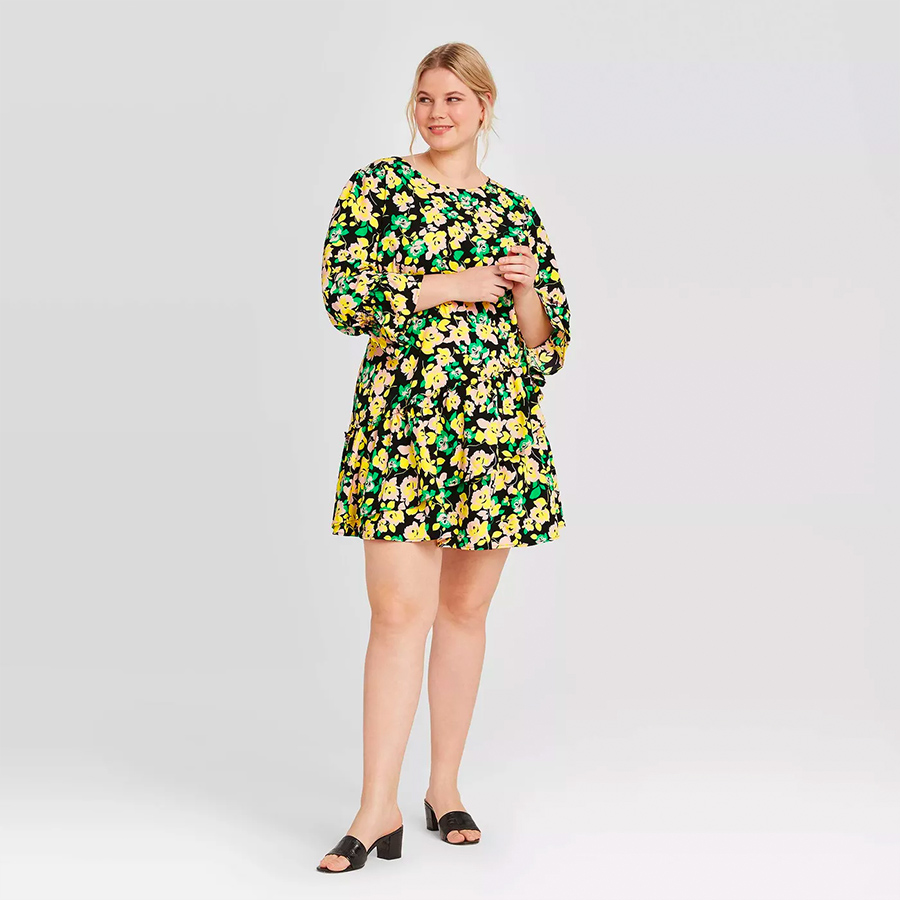 This is one of the cuter mini dresses we've seen, and it comes in plus size! It's 36 inches long and has ruffles at the bottom to add more visual length.
J.Crew Colorblock Sheath Dress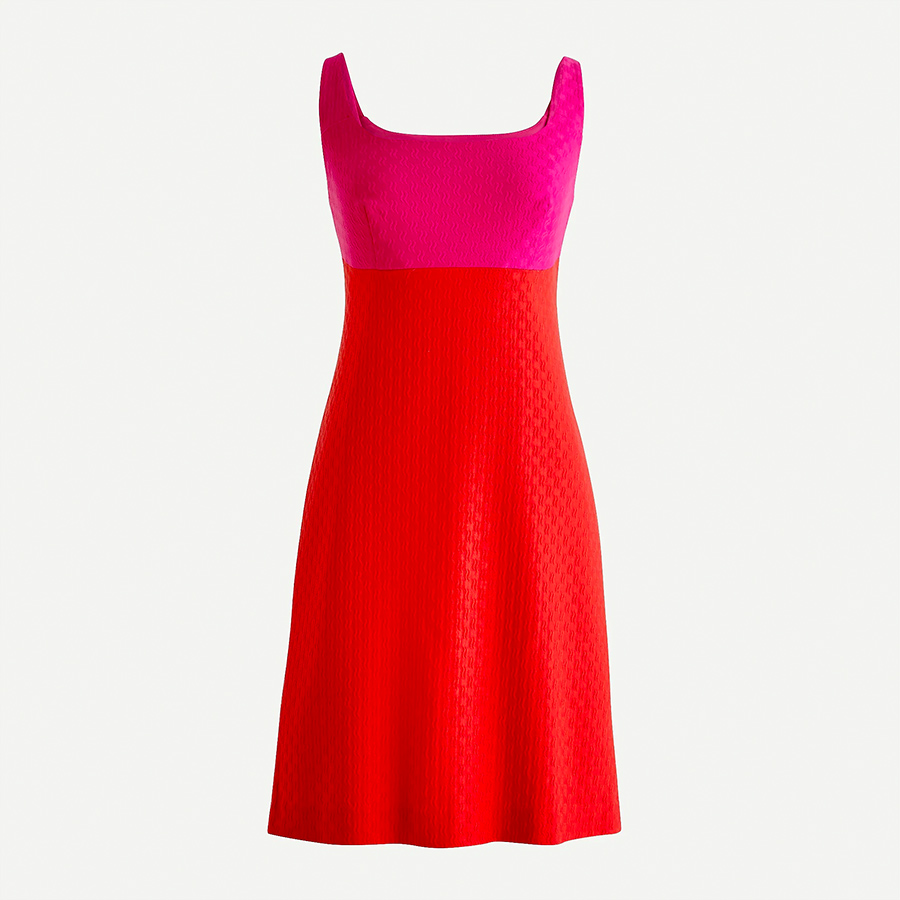 This colorblock sheath dress is a dream. Snag it and save it in your closet for future events, or just pull it out to wear around the house when you need a pick-me-up. It's 37 inches long.
Free People Mia Denim Mini Dress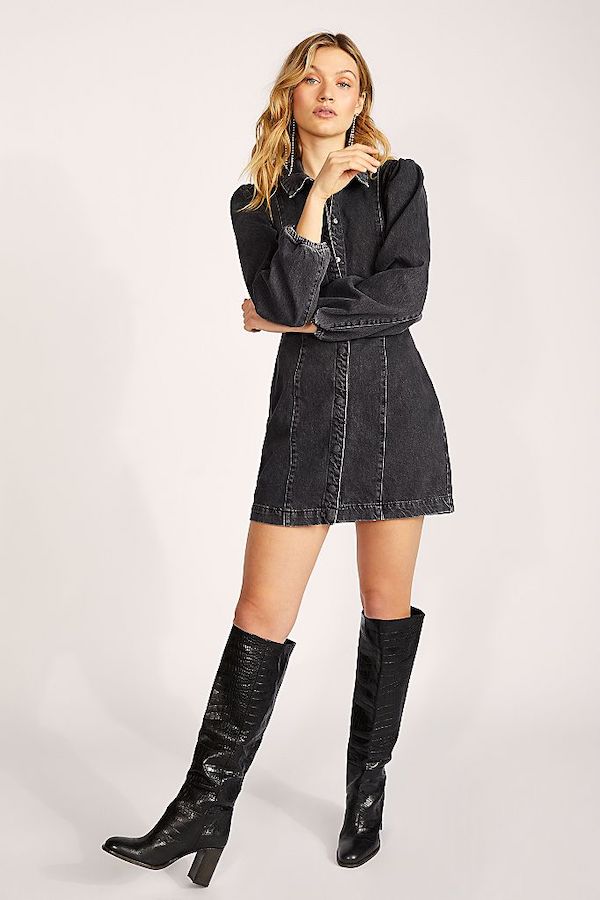 Another one of DiTomasso's favorite styling choices is pairing a long-sleeved mini dress with a pair of tall boots. This denim dress works great for that look for cooler weather, and it can easily work with a low heel or a pair of mules in the summer. It's just under 35 inches long.
Free People Isn't She Lovely Mini Dress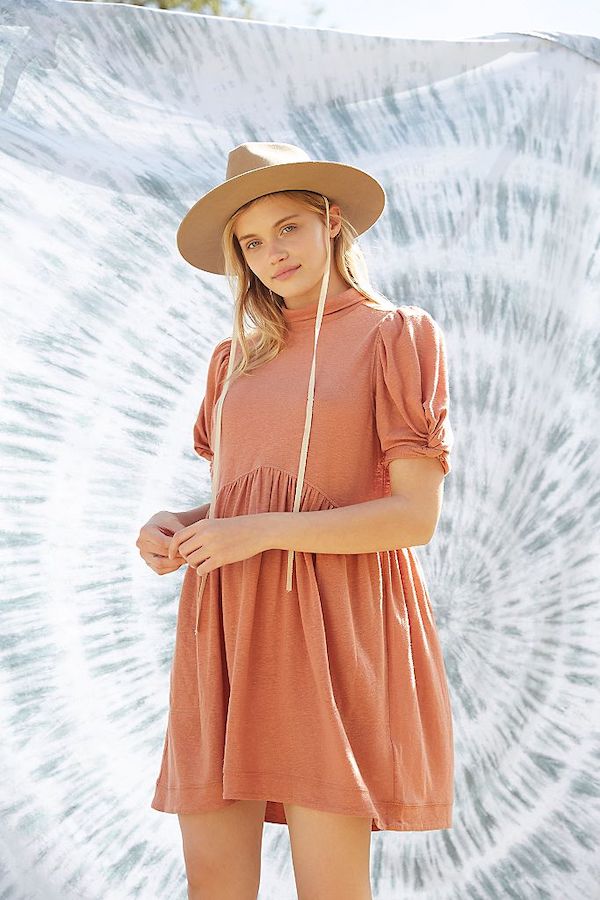 This Free People mini dress is like your favorite comfy T-shirt dress—with some elevated details. It's on the shorter end, just 34 inches in length, but it's great for easy styling. Also, it's probably one of the comfiest mini dresses you'll ever own.