Mindy Kaling wants to write the Ms. Marvel movie, and has she been reading our dream journal?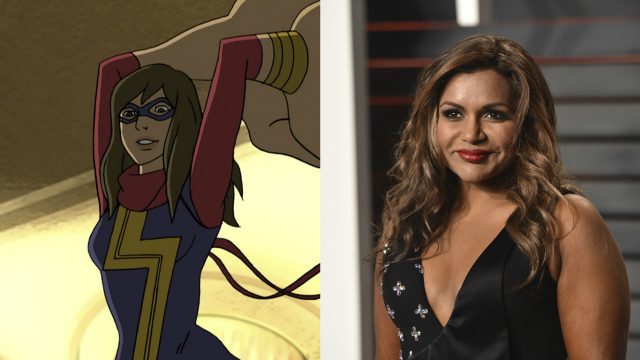 When Carol Danvers was promoted to the role of Captain Marvel in her popular comics series, Kamala Khan took over the role of Ms. Marvel. A crime-fighting teenage girl, Kamala Khan is Pakistani-American and Muslim as well. In short, she rocks. It turns out that Mindy Kaling, another lady who rocks, wants to write a Ms. Marvel movie about Kamala, and OMG, this absolutely needs to happen — and all because Marvel CEO Kevin Feige has not in so many words mostly confirmed that a Ms. Marvel movie centered on Kamala is in the works.
As any Marvel fan knows, a Captain Marvel film starring Brie Larson is already happening. The Marvel Cinematic Universe is ever-expanding, so why *wouldn't* they want to build a film around Kamala Khan? A teenager of color kicking butt and adding diversity to the representation of superheroes on screen? We need this, Marvel! Per Business Insider, Feige knows that:
"We're doing Captain Marvel right now, Captain Marvel is shooting right now with Brie Larson. Ms. Marvel, which is another character in the comic books — the Muslim hero who is inspired by Captain Marvel — is definitely sort of in the works. We have plans for that once we introduce Captain Marvel to the world."
"Definitely sort of" is better than nothing! Plus, Marvel has a writer ready to roll when they are. Or, several, actually.
When Riz Ahmed saw the Ms. Marvel news, he instantly tweeted at the company, offering up himself, Kumail Nanjiani, and Mindy Kaling as co-writers for the script.
Whether or not he had permission to do so is less clear. false
Fortunately, Kaling didn't miss a beat, quote-tweeting Riz and adding that she's read every Kamala comic, and loves the character already.
If that weren't enough, Jameela Jamil — yes, that's Tahani from The Good Place — saw the party happening, and threw her hat in the Ms. Marvel ring. Even if she is only available to do weekends for now. It's better than nothing!!
https://twitter.com/udfredirect/status/996542654916608002
It's obvious that an official Ms. Marvel movie is way off in the future, but we can't wait for the day they sign on women of color — particularly, with Pakistani heritage like Kamala's — to write it for real.