Here's the awkward lie Mindy Kaling gave her Ocean's 8 co-stars to hide her pregnancy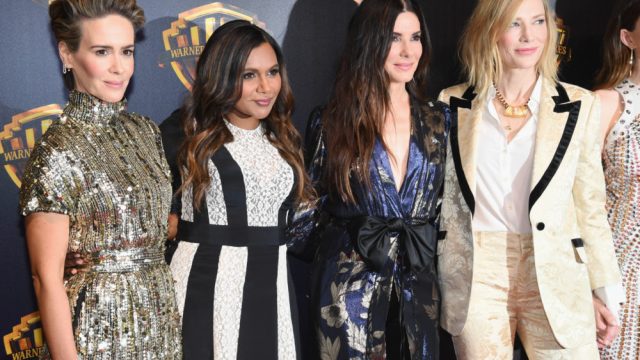 When a woman is in her early stages of pregnancy, it's too soon to shout the news from the rooftops. So that usually leads to some clever little white lies to hide the pregnancy to friends and loved ones until it's safe to finally reveal the big news. But what happens if you're Mindy Kaling, you just found out that you're pregnant, and you're deep into filming Ocean's 8 with some of Hollywood's biggest female stars who want to get drunk with you? According to Kaling, that meant coming up with a super awkward lie. And her story is downright hilarious.
Speaking with the New York Times, Kaling and her Ocean's 8 co-star Sandra Bullock revealed that Kaling came up with a pretty questionable lie to hide her pregnancy during filming. The former Office star recalled a dinner with Bullock and Sarah Paulson when she was two weeks pregnant and still couldn't tell anyone because she was "so superstitious."
"You said you were on heavy antibiotics," Bullock remembered with a laugh. "It's not superstitious! You just don't mention it until you're the first trimester in. Paulson and I kept trying to get you to order a cocktail, and you're like, 'I'm on strict antibiotics.' And we're like, 'What kind of antibiotic is that?'"
And y'all, Kaling's first reflex was such an awkward answer that we can't even imagine what was running through Bullock and Paulson's minds.
"Then I said they were antipsychotics," Kaling said before laughing. "I had to spin a web of lies. I just wish I had been able to actually drink with them."
Getting the once-in-a-lifetime chance to go out to dinner with Bullock and Paulson and not throw back a few drinks? Yeah, we'd have FOMO too. But according to the women, the entire set of Ocean's 8 was one big sisterhood of a bonding experience, no alcohol needed, which is amazing and not at all surprising when you look at the all-star roster of the cast. Now the real question is how do we get invited to hang out with these ladies ourselves? Tell us.
Ocean's 8 premieres June 8th.