You're gonna die when you hear Reese Witherspoon's nickname for Mindy Kaling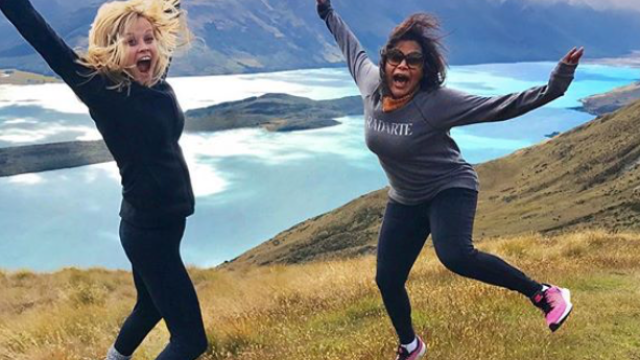 Since filming A Wrinkle in Time together, Reese Witherspoon and Mindy Kaling have become such tight BFFs that we're way jealous. No disrespect to our actual BFFs, but like, can we hang out? Kaling and Witherspoon are such coworker-turned-friend goals, they have really cute nicknames for each other. We have no idea what Kaling calls Witherspoon (Reese's Pieces? Too obvious?), but Witherspoon's go-to name for Kaling is: Min Diesel.
Why are they so cute, and why is that the perfect name for Mindy? Vin Diesel is kinda badass, in a tough guy way, and Mindy is a total badass who creates multiple shows, runs them, and stars in them all while being a single working mom. If that isn't Min Diesel status, we don't know what is.
The nickname exchange was spotted by @CommentsByCelebs, a genius Instagram account that screengrabs interesting comments celebs make on social media. Kaling shared a couple photos with Witherspoon (from the set of A Wrinkle in Time, in full hair and makeup, no less) for Witherspoon's birthday when @CommentsByCelebs noticed that Witherspoon wrote, "Love you Min Diesel!"
Several others are tagging the real Vin Diesel in the pic, but he has yet to weigh in on his namesake status.
The best thing about this friendship is that once upon a time, Kaling and Witherspoon were just fans of each other's work. Kaling famously made a "Wreath Witherspoon" for Christmas in 2014, and Witherspoon incorporated it into a dress for Draper James.
However, it wasn't until they started filming A Wrinkle in Time in New Zealand last year that they solidified their friendship.
https://www.instagram.com/p/BQlXIgYhzjb
We wonder if Oprah is jealous? Nah, she's too busy being a mogul and contemplating running for president.