The trailer for Mindy Kaling's Four Weddings and a Funeral remake is here, and it has us in our rom-com feels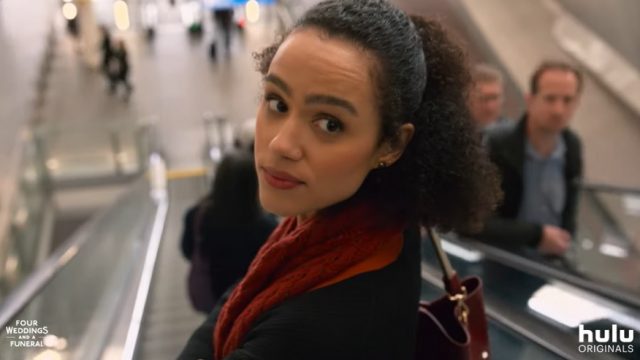 When we first heard that Mindy Kaling was creating a Hulu limited series based on Four Weddings and a Funeral, we couldn't wait to see how she would adapt the classic Hugh Grant rom-com for the small screen. Add in the fact that it stars Game of Thrones' Nathalie Emmanuel (aka Missandei of Naath), and this new series has quickly become one of the summer's must-sees. After much anticipation, the first trailer for Four Weddings and a Funeral is here—and it definitely lives up to the hype.
According to Entertainment Weekly, the forthcoming series stars Emmanuel (with an American accent!) as Maya, one of four friends who reunite in London for a wedding. Sparks fly when she meets a handsome, witty man (Nikesh Patel) at the airport—but things quickly turn awkward when she learns that he is dating her friend Ainsley (Rebecca Rittenhouse). The trailer, which dropped today, July 1st, features so many charming and hilarious moments, including the phrase "Ryan Gosling dipped in caramel." There's even a surprise appearance from Andi MacDowell, one of the stars of the original movie.
We're adding Four Weddings and a Funeral to our Hulu queues as we speak.
https://www.youtube.com/watch?v=604JeF9RNu8
Fans were ready for this series.
false
As Kaling told EW, her new Four Weddings and a Funeral won't follow the exact plot of the original. Rest assured, however, that there will be all of the events mentioned in the title.
"I wanted to take the themes and the essence of the movie and apply it through my eyes of what I would like to see that I haven't seen yet," she told EW. 
The 10-episode Four Weddings and a Funeral will be available on Hulu starting July 31st. We're so ready for this new take on a classic.