Mindy Kaling thinks she knows what her daughter Katherine's first words are going to be, and LOL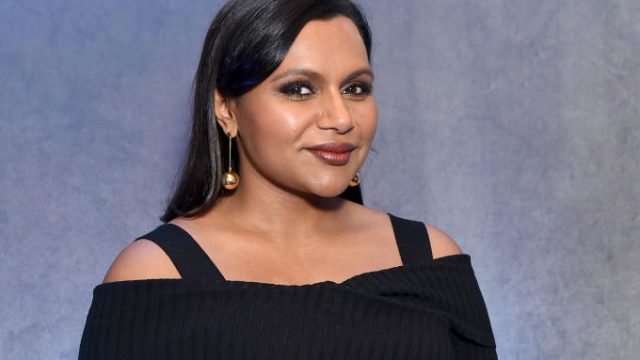 Ever since welcoming her first child, a daughter named Katherine back in December 2017, Mindy Kaling is all about that new mom life. Though she's keeping things super private (we've only been given a tiny glimpse of baby Katherine in an Instagram picture), Kaling has been candid about life with her daughter, sharing little tidbits about their first months together. And it's really the sweetest thing.
In Shape magazine's June issue, Kaling shared that she has a feeling she knows what her daughter's first words will be, and they'll definitely make you crack up. Katherine is only five months old, but Kaling has been preparing for the moment when she utters those precious first words. But in true Mindy fashion, it'll remind you so much of her most iconic characters, Kelly Kapoor and Mindy Lahiri.
According to Entertainment Tonight, Mindy gushed about bonding with her daughter, revealing, "She is a really happy baby. When she was born, she was kind of skinny and anxious. I think she was like, 'Can this woman take care of me?' But during our many breastfeeding sessions, we've gotten to know each other, and she's learned to trust me over time."
They've bonded so well that Kaling knows what Katherine's first words will likely be.
"What's great for me is that my doctor told me that incessant chatter is good for a baby, and I've lived my whole life waiting to have a captive audience. So, I spend the days narrating to her. I'm constantly doing voice-over for her, as I did in The Mindy Project. Honestly, I feel like her first words are going to be, 'Just stop. Please!'"
Of course, we're sure that's probably not true. But it definitely makes us laugh to think of Kaling's little tot having such a sassy first statement.
Kaling is understandably busy juggling work and being a new mom (and moving into a new house).
She also shared that she's "learned to appreciate the little moments," like feeding Katherine in their "fancy new living room," as well as taking the time to go for walks.
We're so excited for Mindy as she celebrates all of Katherine's first milestones. Yes, even those first words, whenever they might come out.