Mindy Kaling's New Book Covers Are So Relatable It's Scary
October needs to come NOW.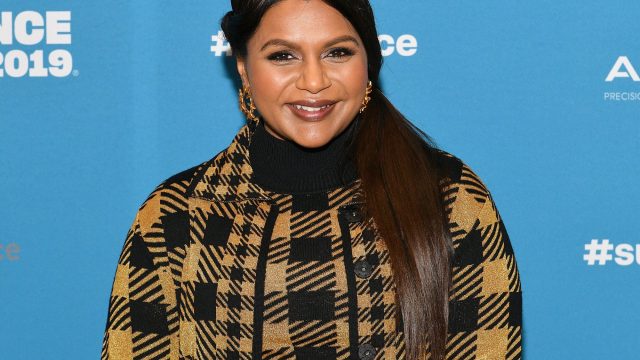 We're saved! Mindy Kaling is dropping a brand new collection of essays through Amazon, and there's now much-needed confirmation that this year isn't a total wash. Kaling shared the cover images for her new essays, hitting Amazon in October, and the titles of each essay are almost too relatable.
The full collection of six essays is collectively called Nothing Like I Imagined (Except for Sometimes), and in each, Kaling talks about parenthood as a single mother, balancing her social life and career, and concealing her anxiety when attending Hollywood functions, as Entertainment Weekly explains.
"They're here!! Excited to share the covers of my new collection of essays I'm writing through @amazonpublishing, coming October 6th," Kaling captioned her August 17th Instagram announcement. "I'll be sharing some BTS moments of our shoot, along with tidbits of funny stories about my life…stay tuned! More at Amazon.com/Mindy."
Honestly, we can't get over the relatability of "Searching for Coach Taylor," in which we assume Kaling tries to find her own Kyle Chandler from Friday Night Lights.
But even more relatable, and full quarantine-energy, is Kaling's essay Please Like Me (But Keep Away).
"It's so exciting for me to share the secrets of how I balance being a professional writer, actor, and single mom in a new collection of essays," Kaling said in a 2019 press release. "I mean, it would be so exciting to share those secrets. I don't have them. Like, not even close…But I do have funny stories about my life and I can't wait for you to read them."
Nothing Like I Imagined (Except for Sometimes) will be available for free in both ebook and audio for Amazon Prime and Kindle Unlimited customers. And non-subscribers will be able to purchase the collection through Kaling's Amazon author's page.
And while you wait for the collection to drop, we highly recommend reading Kaling's two prior books, Is Everyone Hanging Out Without Me? and Why Not Me?, which can also be purchased on her Amazon page.