B.J. Novak gushing about how far Mindy Kaling's come will have you crying about soup snakes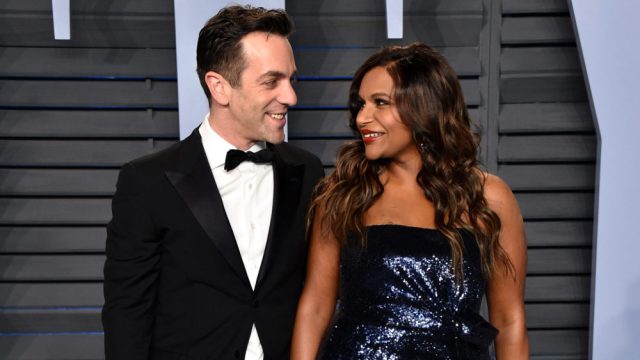 Hey, Office fans, you there? You might want to sit down for this, because Kelly and Ryan are being hella cute again, and you should be ready to feel literally all the feelings. Ready? Great, because B.J. Novak has shared *yet another* adorable post about Mindy Kaling, and we're S-C-R-E-A-M-I-N-G with delight.
Days after Mindy Kaling and B.J. Novak attended the Academy Awards together — and took some adorable as hell pictures that damn near broke the internet — Novak has taken to Twitter to express his pride about Kaling's turn as Mrs. Who in A Wrinkle in Time, which is now (finally!) playing in theaters.
"When I met @mindykaling she lived in a small apartment on Fairfax Ave. This is what's in front of that building today," he said, speaking to Kaling's Wrinkle in Time poster. "Congrats Mindy and a future congrats to all those who see you in it and are inspired to do great things. @WrinkleInTime"
So like, is this the cutest shout-out ever, or the cutest shout-out ever? Obviously, this is the CUTEST SHOUT-OUT EVER. And here we thought we couldn't be anymore excited about A Wrinkle in Time — and Mindy Kaling and B.J. Novak's friendship.
Yes, friendship.
The pair dated when they played legendary TV couple, Kelly and Ryan, in The Office, Us Weekly reports. They've stayed close — professionally and personally — in the following years, and they've maintained that they're just friends. But…that didn't stop a number of fans from speculating about there being something more between them in response to Novak's latest post.
false
https://twitter.com/udfredirect/status/972194146709458944
Speculation aside, many were just emotional AF to see Novak being so supportive of his former co-star and friend, and celebrating how far she's come — because #SAME.
A Wrinkle in Time is now in theaters and, like B.J. Novak, we can't wait for everyone to see Mindy Kaling in it — and feel inspired.