Jonathan Groff tries to understand how serial killers operate in the trailer for David Fincher's "Mindhunter"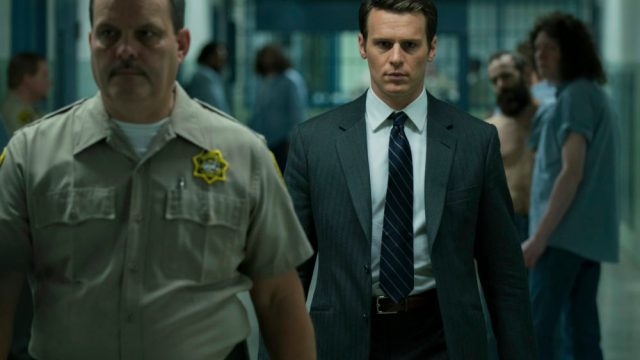 Netflix is giving us another awesome show to add to our always-growing queue. The upcoming crime-thrillerMindhunter released a new trailer — and boy oh boy does it look intense.
The show is based on Mind Hunter (the book!), and the trailer shows Jonathan Groff interviewing some of the most dangerous minds humanity has seen. His character, Holden Ford, is based on one of the FBI pioneers who first began trying to understand these killer minds.
From the looks of this Mindhunter trailer, the Netflix show seems to take us on an intense journey through some seriously dark psyches.
https://www.youtube.com/watch?v=
In learning how these minds work, Ford and company hope to be able to prevent more gruesome deaths in the future. But learning all the horrible details of each murderous attack starts to cause the team to question their own sanity.
The TV series is certainly not the first time Netflix has embraced darker stories.
From Making a Murderer to 13 Reasons Why, the streaming giant definitely doesn't shy away from bone-chilling content. And it looks like this will certainly add to that slate.
Plus, David Fincher directed a few episodes and is executive producing. And since Fincher was able to pull the rug out from under us with Se7en, Fight Club, and Gone Girl, we're expecting this series to take some exciting and unexpected twists and turns as well.
We can't wait to see Groff tackle this very serious role when the show premieres on Netflix on October 13th — just in time for you to binge and feel all the creepy chills before Halloween.