Millie Bobby Brown wants to be on "The Walking Dead," and someone make her a zombie already
The undeniable breakout star of the fall is the young actress who plays Eleven on Stranger Things, Millie Bobby Brown. While she's already won over our hearts, now she's looking to conquer the rest of television, too — and we have no problem with that. Over the weekend at the Rhode Island Comic Con, Millie confessed she wants to be on The Walking Dead, and the TV Powers That Be, make this happen, and make it happen fast. We saw Millie transform into Eleven (and Elle) during Stranger Things, so being a zombie will be a piece of cake! Probably!
During her panel, Brown admitted that wants to be on the hit AMC show. In a video taken by a fan, Brown discusses everything from her school schedule to her aspirations to *maybe* direct one day. She even sings a little bit!
But to be honest, it's her interest in The Walking Dead that really has us intrigued.
https://www.youtube.com/watch?v=I2-XALHMZrg?feature=oembed
The moderator asks Brown about other roles she wants to play. The young actress responds: "There's this one show I just want to be on so badly, I've tried everything to get on The Walking Dead. I don't even care if I'm a zombie!"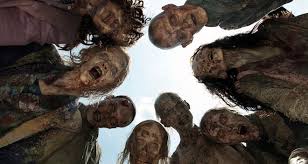 We love that Millie want to be on The Walking Dead. While it would definitely be cool to see her as a zombie, we also wouldn't mind if she were a survivor. A 12-year-old would have pretty badass to survive roughly two years in the zombie apocalypse. Anyway, whether she's a strong survivor, or a creepy walker, we know she can handle it. After all, Brown has done both as Eleven.
Brown goes on to say, "And I do know that...Negan is here today." Negan himself, actor Jeffrey Dean Morgan, was also in attendance at the convention. Maybe she was able to meet the actor and ask him to put in a good word for her with The Walking Dead's creators? Cross your fingers
Either way, Millie Bobby Brown wants to be on The Walking Dead and we want her on it, too. TV gods, are you listening?