Millie Bobby Brown does a mean "The Walking Dead" impression, further proving her obsession with the show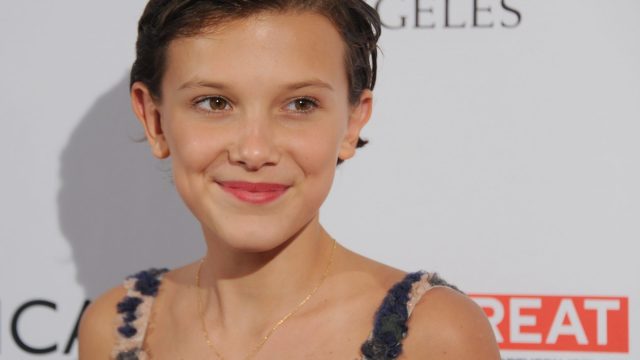 ICYMI, we adore Millie Bobby Brown. She acts, sings, and steals our hearts on the regular. The Stranger Things star also impersonates The Walking Dead's biggest villain. We recently learned that Brown really wants to be on The Walking Dead. Now the young actress, who will be returning to Stranger Things in season 2 (thank the Netflix gods), is sharing more of her love for AMC's zombie series.
When Brown was at Rhode Island Comic Con promoting Stranger Things, she admitted to desperately wanting to be on TWD. She's even willing to go through hours of walker makeup to act on the show. She also shared her thankfulness to fans for their support at the Con.
https://www.instagram.com/p/BMxNM8RB48p
But that wasn't all – Brown got to meet Negan himself, Jeffrey Dean Morgan. Her expression in the picture looks like she's telling herself to stay calm (Which is funny, because that's how we'd look if we met her).
https://www.instagram.com/p/BMuvIUHhrC-
Now, Millie Bobby Brown is continuing to show her love for TWD by posting a homage to Negan himself. A couple episodes ago, Negan visited Alexandria. It was a suuuper tense episode; the characters even faked Maggie's death to protect her.
Before that, Negan arrived and knocked on the gate. He said, "Little pig, little pig, LET. ME. IN." Of course, Negan would see himself as the big bad wolf. And, we have to admit, Brown's impersonation is nearly as good as the original.
https://www.instagram.com/p/BNShkVyhIv8
Brown is more adorable and less threatening than Morgan. Maybe it's the fact that she's holding a small dog, and miming Negan's barbed wire-covered baseball bat, Lucille. Still, though, we can see her playing someone like Negan – after all, aspects of her Stranger Things character Eleven are creepy/threatening. Plus, let's be honest: Negan would be even more terrifying played by a young girl.
Sadly, we're pretty sure we won't get to see Millie Bobby Brown play Negan IRL. But, now that her love of The Walking Dead is clear, we hope she'll get her wish of being on the show. Whether she's a walker or a young survivor, we're sure Brown would be amazing on the show. As long as there aren't scheduling conflicts with Stranger Things, because priorities, we hope the TWD creators hear our pleas and cast her, pronto.