Millie Bobby Brown knows who she would save from the Upside Down — but you might not like her answer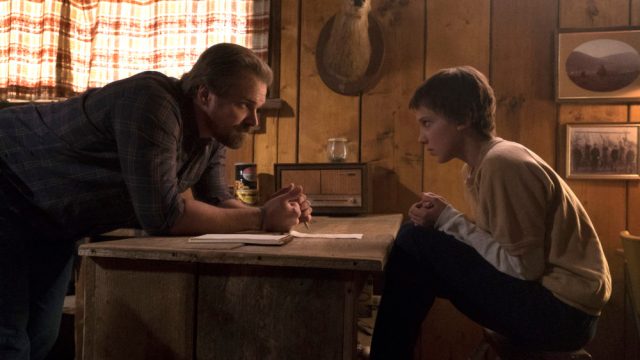 Hopefully, none of us find ourselves in the Upside Down anytime soon. However, if that happened and we were tasked with G'ingTFO ASAP and someone fell behind, who would we save? Once again, hopefully not something any of us face in the near future, but this is a real fear for the residents of Hawkins, Indiana. And if you ask Millie Bobby Brown who she would save from the Upside Down, her answer comes in two parts.
Millie Bobby Brown herself would save David Harbour (and like, same). But in the world of Stranger Things? Eleven would probably save Mike.
Over the weekend at the Supanova Comic Con in Australia, MBB held her own panel (you go, girl) to talk all things Stranger Things, Eleven/Jane, and Eggos. Someone in the audience asked her a question about saving people from the Upside Down, as you do. And specifically, if faced with Eleven's Choice, who would she save — her surrogate father, Hopper, or her crush, Mike?
"I think if I say..." she begins, before trailing off to think long and hard about this. "Finn will get over it. But David! If I said [I'll save] Mike, David would be genuinely hurt."
You better believe Mr. David Harbour would be hurt, and listen, we would be hurt too because have you even SEEN HOPPER in this past season of Stranger Things?
However, MBB continues, how she thinks is different from how Eleven thinks.
"I think it's such a different relationship [for these two], but, I don't know. I think [I'd save] Hopper, for me, as Millie. But as Eleven, she'd probably choose Mike because she's absolutely obsessed with him."
https://www.youtube.com/watch?v=f_VZgoDee8g?feature=oembed
Don't worry, this has already been brought to Harbour's attention, and the actor jokes that he's going to do a better job keeping her on the straight and narrow (and non-Mike) path:
But if push comes to shove, can't we just save everyone from the Upside Down? (Except for Barb, and once again, sorry about that.)