Millie Bobby Brown revealed she was bullied so hard that she had to switch schools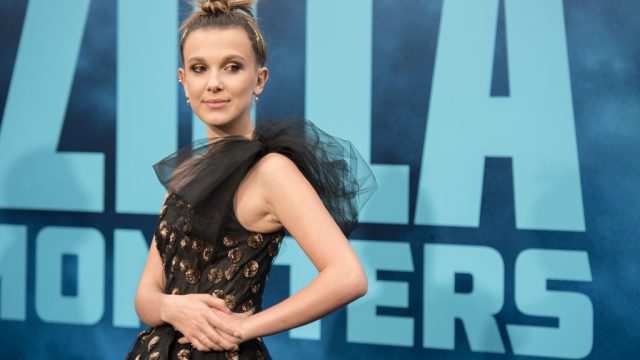 Being the target of bullying can negatively impact anyone's self-esteem—no matter who they are. Like many young people growing up in the public eye, Millie Bobby Brown is no stranger to receiving negative comments online. But it turns out that she has also faced bullying back home in the U.K.
Brown spoke with fellow actor and UNICEF Goodwill Ambassador Orlando Bloom for the latest issue of Glamour UK. In the interview, Bloom applauded her efforts to combat bullying but wondered if that put her "in the firing line." Brown, who is 15 years old, replied that she was bullied at school in the U.K.
"I actually switched schools because of it, it created a lot of anxiety and issues that I still deal with today," she explained. "I have dealt with situations both in real life and online that are soul breaking and it genuinely hurts reading some of the things people have said. Being in this industry we have become so aware of negativity and it's made me appreciate the love so much more. People receive so much love on social media and then only focus on the hate."
https://www.instagram.com/p/BxueOrAHyQp
Bloom also complimented Brown on the way she uses social media to build a community. The Stranger Things star explained that, while she does enjoy social media, she has also dealt with bullying online.
"Social media is one of the best places in the world and one of the worst–it counteracts itself," she continued. "It sends such amazing messages; it raises awareness of situations that need to be heard. Nobody should say it isn't a platform for positivity and change. But then there are some really heartbreaking things to happen on social media and I have dealt with a lot of bullying online. I want to make it a happy place."
https://www.instagram.com/p/BxptQKhn1HQ
Brown is already making a difference for those who have been bullied.
As UNICEF's youngest Goodwill Ambassador ever, she's pledged to advocate for children who can't advocate for themselves. She's also an outspoken proponent of gun control; at the 2018 Kids' Choice Awards, she wore an outfit that honored the 17 victims of the Parkland school shooting.
No one should have to endure bullying. We're glad that Brown has been able to rise above it and help others.