Millie Bobby Brown reacts to her "Stranger Things" Emmy nom, and what a great day to be Eleven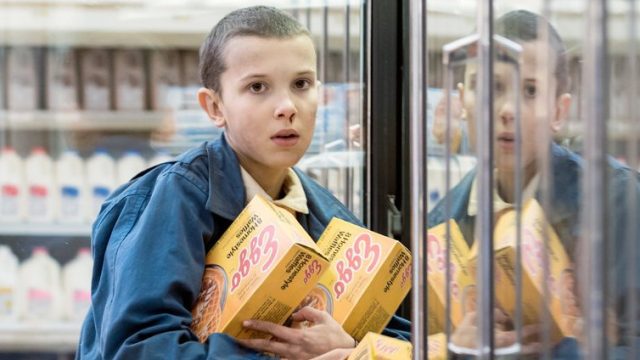 Millie Bobby Brown stole our hearts as Eleven during the breakout first season of Stranger Things and now the 13 year-old actress has a chance at winning an Emmy for her incredible work.
The young actress scored her first Emmy nomination for Outstanding Supporting Actress in a Drama Series.
Last summer, Stranger Things was quietly released on Netflix, only to become one of the biggest shows of 2016. The series was nominated for a total of 18 Emmys — including Outstanding Drama Series, Outstanding Guest Actress in a Drama Series for Shannon Purser (yay justice for Barb!), and Outstanding Supporting Actor in a Drama Series for David Harbour. (Winona Ryder was not nominated, and we just gotta say, we think she was snubbed!)
Brown posted the *most* adorable Instagram to celebrate her HUGE nomination.
https://www.instagram.com/p/BWfqJx-lt0S
"it's only 1:00 pm and A LOT has happened," she wrote. "Stranger things is a show to represent equality, fairness, and outcasts. Im grateful that I am a part of that. I'm extremely excited that the show has been nominated 18 times! A huge congrats to all the other nominees! Chief hopper- you completely deserve this because you are a phenomenal actor and to watch you work is inspiring and educating! To all of the directors, writers and producers, congrats!Wohooooo! Let's win this thing."
We love it!!
Harbour, who plays the cynical but heroic Chief Hopper, took to Twitter to share his excitement over the Stranger Things noms:
One of the biggest surprises of the Emmy nominations was Purser's nomination for her work as the ill-fated Barb Holland. Barb (and her death) became a media phenomenon last year after the character was unceremoniously killed by the Demogorgon after just a few episodes, and it appears that #justice4barb struck a chord with Emmy voters, too.
Purser also took to Twitter to share her shock and excitement:
false false
Congrats to everyone in Hawkins (and the Upside Down)!! We'll be keeping our fingers crossed for the Stranger Things cast and crew when the Emmys are held on September 17th!