You have to see baby Millie Bobby Brown belting out Adele's "Someone Like You"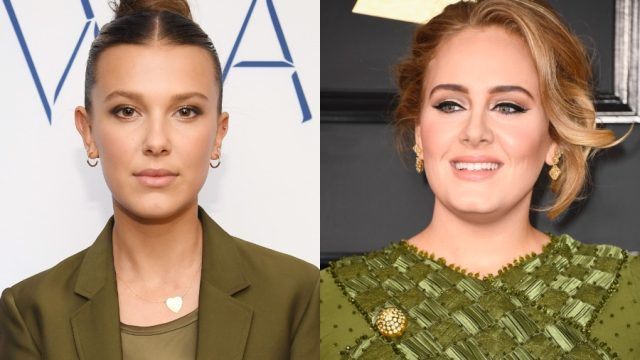 Millie Bobby Brown had a pretty impressive decade. She first stole our hearts and scored an Emmy nomination for her role in Stranger Things, she became UNICEF's youngest-ever goodwill ambassador, and she even added "movie producer" to her resume. To reflect back on where it all began, the multi-talented teen just posted the most adorable video of her 7-year-old self belting out to Adele's "Someone Like You." We think it's safe to say she just won the 10-year challenge.
With a hot pink microphone in hand, 7-year-old MBB is demanding audience attention, and we are so here for it. If you didn't already know from her carpool jam sessions featuring many Adele songs, the caption made it clear that she's "still utterly obsessed" with the singer now.
Her love for Adele has been consistent over the years, but Brown called the decade "life changing" overall.
"I found my passion in 2013 when I knew I loved being on camera," Brown wrote. "in 2014 -2015 I was begging casting agents to believe in me. in late 2015 Carmen Cuba, the duffer bros, shawn levy, and dan cohen but most of all @netflix believed in me. From there I've been all over the world meeting all of you. Met the most genuine people. grown up and learned many things."
https://www.instagram.com/p/B6vzxl4HDwX
Honestly, we're exhausted just thinking about everything the 15-year-old has accomplished, but we can't wait to see what the next decade brings. Secretly, we're hoping the young karaoke queen drops an album, but mostly we're just excited to keep watching her live her dreams and encourage other people to do the same.
"I'm turning 16 soon and I can confidently say I'm living my dreams out," Brown wrote. "This is what I want for every young person right now." We're with you, Millie.