Millie Bobby Brown just booked a new movie role — and she's playing Sherlock's younger sleuth sister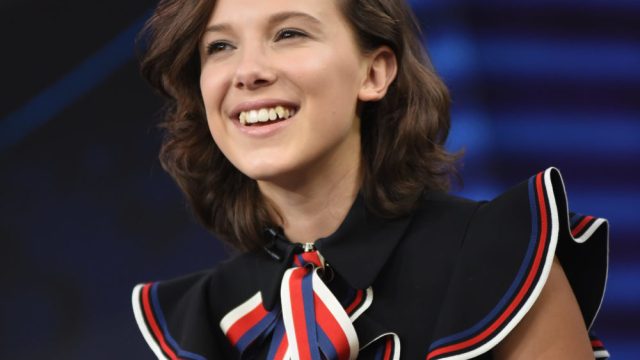 No doubt about it: Stranger Things' Millie Bobby Brown charmed audiences with her portrayal of Eleven, the supernatural sensation in the hit Netflix series. As it turns out, the actress is about to develop an entirely new fandom, because it was just announced that Millie Bobby Brown will play Sherlock Holmes' younger sister in a series of films. YUP, COMMENCE FREAK-OUT.
The character of Enola was created by award-nominated author Nancy Springer in 2006. Enola is a much-younger sibling to her elder brothers, and chafes against her upper-crust English surroundings. She's highly intelligent, and an exceptional detective in her own right; so yeah, we can't wait to see Millie Bobby Brown bring the character to life.
This is the first screen adaptation of the Enola Holmes novels, and the Emmy-nominated actress is not just on-board to star. She's set to produce, too. Yas, Millie!
There are six books in the Enola Holmes series so far, and there will *likely* be more than one film.
Deadline, which broke the news,reports that "the deal" between Brown and Legendary Entertainment is for a series of Enola Holmes films. Since the news is so new, there's no word yet on a title, release date, or other stars. But Millie Bobby Brown solving crimes in 1880s England is definitely enough to get us HYPE.
Again, it's not clear how many Enola Holmes films will be made, or which novels they'll condense/adapt first. In the meantime, it wouldn't hurt to rewatch Sherlock on Netflix to keep yourself busy. The BBC series holds up.