Millie Bobby Brown wore the names of the 17 Parkland victims on her shirt at the Kids' Choice Awards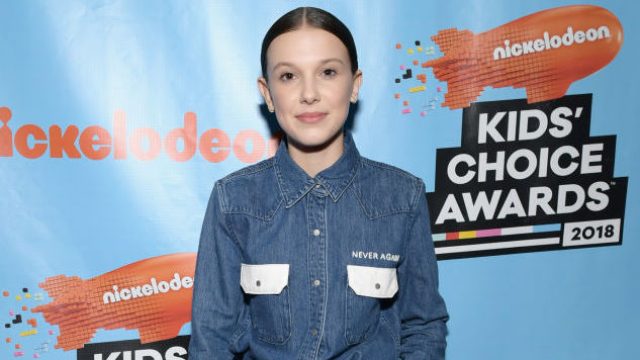 March 24, 2018 was certainly a day for the books. During the March For Our Lives, millions of people stood up against gun violence in America. Ever since February's mass school shooting in Parkland, Florida, people have been especially fed up with guns. It's too easy to acquire a gun in our country. The number of deaths due to guns — both in schools and otherwise — is disturbing, tragic, and avoidable. And people are fed up.
The survivors of the Parkland school shooting quickly rose to fame as they stood up and made their voices heard. Those students have changed the conversation about gun control in a big way. Gun violence in schools is not something we will accept and move on from. The hashtags #Enough and #NeverAgain are now heavily associated with the conversation about gun reform in our country.
The Kids' Choice Awards also took place on March 24th. We are used to our favorite celebrities standing up for causes they believe in, and last night did not disappoint. Millie Bobby Brown honored the Parkland victims at the ceremony in a big way. She wore a March For Our Lives shirt that paid tribute to the lives lost in Parkland.
Brown's shirt listed the names of all 17 victims of the Parkland shooting.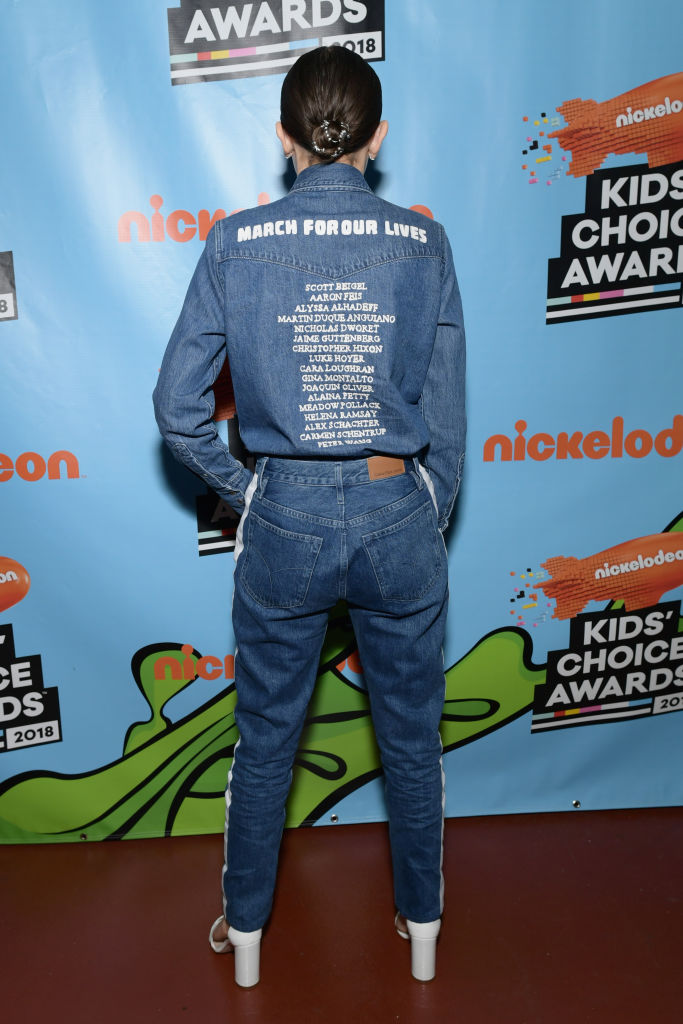 She may be young, but she sure is mighty. Brown won Favorite TV Actress at the 2018 Kids' Choice Awards. And in her speech, she discussed the importance of the March For Our Lives.
"As we saw a moment ago, the March For Our Lives demonstrations that took place all over the world today have inspired me and impacted us all in one way or another."
The actress went on to thank everyone for the opportunity she has to play her character Eleven on the show Stranger Things. She discussed how lucky she is to be an actor and to have the support of her fans.
"But more than anything, I get to be up here, and I'm privileged to have a voice that can be heard, one that I can use to hopefully make a positive difference and help influence change."
Brown began to tear up as she concluded her speech. Her shirt was especially powerful in that moment.
"For the angels among us, your spirit lives on. This is for you."
It is so important and touching when someone uses their platform to fight for a good cause. Brown did not have to address March For Our Lives in her speech, but we are so glad she did. Then, on Instagram, she thanked her fans for the win and also shouted out a few special people, like Calvin Klein, who made the shirt. Brown also tagged a few of the Parkland survivors who have been especially outspoken in recent weeks.
https://www.instagram.com/p/BgumG9lAoW_
Congrats to Brown on her win and on her powerful, eloquent speech.