Millie Bobby Brown and Maddie Ziegler are forming a squad and invited this awesome lady to join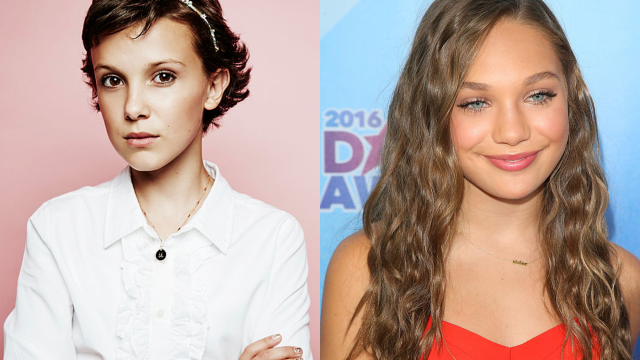 If there was one squad of awesome ladies that we all want to join, it would have to be the squad that Millie Bobby Brown and Maddie Ziegler have started. The Stranger Things star has been hanging out with Maddie, the awesome dancer who has been featured in Sia videos, and they look like they have so much fun together.
Last night, Millie invited Grace VanderWaal, the winner of America's Got Talent, to join their squad via Instagram, and we're kinda jelly.
https://www.instagram.com/p/BKXZcqTj-eE
"Congrats to this awesome girl! I really hope you can be apart of me and @maddieziegler sqaud! ❤️💕 #awesome #goals #americasgottalent"
Grace just totally blew us all away with her finale performance, and when she was declared the winner, we were all super excited. Now, along with her million dollar prize and her Las Vegas show, Grace might be able to achieve some serious #squadgoals thanks to her epic win.
Millie and Maddie's squad looks like a TON of fun.
These ladies spent the day goofing off at Universal Studios in Los Angeles, and their antics looked like a blast.
https://www.instagram.com/p/BKLwppFD2tT
Millie and Maddie met at So You Think You Can Dance, so it would be fitting that their new member was another awesome lady from a reality competition.
https://www.instagram.com/p/BIT5ME4Dmc_
We really hope Grace accepts their invite, because together, this squad will be a total triple threat with all that singing, dancing and acting talent.
Work it, girls!