Millie Bobby Brown and Kim Kardashian West hang out in the "Stranger Things"/"KUWTK" crossover of our dreams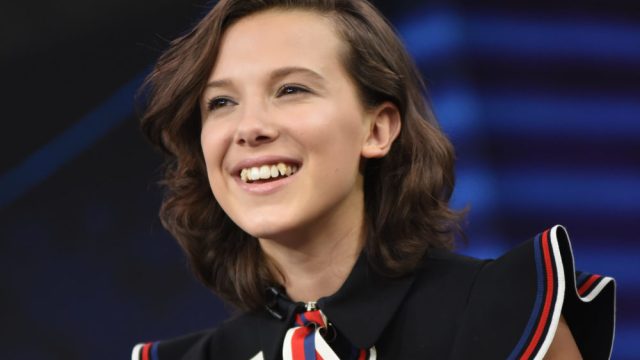 Millie Bobby Brown's dream of meeting a Kardashian has finally come true — and there's video to prove it.
Both the Stranger Things actress and Kim Kardashian West excitedly told their followers on Instagram Story about their hangout on Friday, March 30th, which had probably been in the works ever since Brown adorably confessed her love for Keeping Up With the Kardashians on The Tonight Show back in October.
Allow us to refresh your memory:
"Keeping Up With the Kardashians all the way. I love them," Millie Bobby Brown said, when host Jimmy Fallon asked about her TV likes. "I'm obsessed with them. I follow them on social media. I think that they are just like really great. They're so entertaining. They have their own, like, language. Like instead of saying 'I swear,' they're like 'Bible!' And then they're like, 'Okurrr!' It means like OK. It's like, 'Okurrr!'"
The love affair between Brown and reality TV's first family took off from there, with multiple members of the Kardashian clan tweeting in response to Brown's comments. Momager Kris Jenner wrote: "I love you @milliebobbybrown, you are so adorable! Thanks for watching #KUWTK! We are huge fans of yours also!" Khloé Kardashian joined in with, "It's a mutual love fest! I LOVE you @milliebbrown! #Okurrrrttt this video made me smile from ear to ear BIBLE."
And future BFF Kardashian West expressed her own adoration: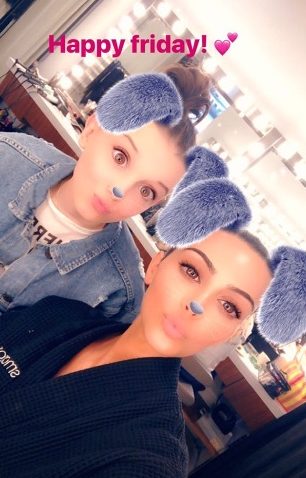 Brown wasn't the only one fangirling, though. Kardashian West posted footage telling her fans, "You guys, look who I'm hanging out with on this Good Friday!"
We're pretty jealous of Kardashian West, to be honest, as we're *HUGE* fans of Stranger Things and Eleven in particular. Though we don't know where this mutual adoration will take them, we do know we're absolutely here for it.
Anyone else hoping Eleven makes a quick stop over at KUWTK? Hey, stranger things have happened.